FIRST LOVE (SHORTLISTED, 2017 BAILEYS WOMEN'S PRIZE)
Tweet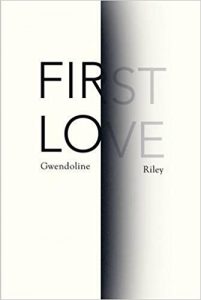 Those familiar with Turgenev's famous novella First Love may immediately expect a love affair of ill-fated, cataclysmic proportions. For those unfamiliar with the reference, the title of Gwendoline Riley's First Love is cruelly, cleverly deceiving. A love story? Perhaps. But the bitterness and heart-breaking loneliness that plague the pages of this novel breed an unexpectedly raw and conflicted exploration of toxic relationships.
First Love is centred around thirty-something-year-old Neve, who has recently moved in with her older husband Edwyn. This is a man who suffers various health conditions and whose relationship with the protagonist is turbulent, acidic and unhealthy. He states that women are "evil  shallow fucking bitches." These outbursts of anger towards Neve are violent and often hard to read: "Get back in the sewer, scum." But this is contrasted with equally extreme, child-like endearments, seen through the nicknames, "Mrs Pussykins" and "little one". Yet, as the novel unravels, quietly and slowly, we also begin to worry about the mental state of Edwyn – in one particularly devastating section he punches himself repeatedly in the face – and therefore our sympathies become confused.
Riley understands, and allows her readers to understand, that despite the clear abuse, the relationship is (as most are) extremely complex. There are no straightforward villains or heroes, and her protagonist is aware of her own contribution to the state of their marriage. This self-awareness is apparent throughout the novel, with Neve insightfully stating: "Considering one's life requires a horribly delicate determination, doesn't it ?"
Neve isn't perfect (who is?). She is often weak and self-pitying, and irritatingly inactive within her own life. But these flaws are realistically human; Riley's characters feel honest and naked of decoration. In an emotive section of the novel, Neve writes to herself:
untangle yourself. Stop saying you love him. You're wearing a groove in your mind…remember you're a grown woman now. Be more proud and more relaxed…be decent to him and to yourself. Respect yourself and him. See your friends. Don't be sly. Don't be deceitful…Leave the room if he calls you a name. If you save money you can leave the flat if he's nasty …
The structure of the novel mirrors the turbulence of Neve's relationship with Edwyn. The pair seem to experience relative peace, before tensions boil and erupt again. The narration is similarly chaotic and non-linear, as it weaves in and out of the past. Neve reflects on the other unsatisfying relationships she has experienced: her late father, an imposing and bullying man who "ate himself to death"; her manic mother, a comically uplifting character, who seems almost unreal in her self-absorbed and scatty nature; and an almost-lover who toyed with her heart. Each character is masterfully drawn, and each poisonous relationship is reflected upon with just enough witty humour to cut through the bleakness.
Despite the tumultuous nature of the novel and the relationships within it, there is an overall stillness. The toxicity has a quiet calmness running beneath, enhanced by a coolly detached and witty tone throughout. The plot never quite reaches the explosive climax which I anticipated. But the uncomfortable feeling this gives, like an itch left unscratched, effectively heightens the tensions at play.
First Love is a tender observation of how the stability associated with marriage is often tangled with isolation and pain. There is a suspension of the expectations connected to romantic love here. Love is hate. Hate is love. This could have made for a dark, hateful book, but the quiet humour and the delicacy with which Riley handles the narration does not allow it. What do we get instead? A quiet novel, but one brimming with self-awareness, vibrancy, and emotion.
Nicole Gemine