A DISTANT VIEW OF EVERYTHING
Tweet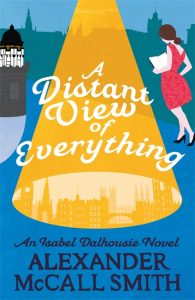 Alexander McCall Smith is a prolific author of fiction and academic texts, and he is best known as the writer of The No 1 Ladies' Detective Agency series. His latest release, A Distant View of Everything, is the eleventh in a series of novels known as the "Isabel Dalhousie Mysteries".
Like the Jessica Fletcher character in the long-running television programme "Murder, She Wrote", Isabel Dalhousie, as well as following her avowed profession and fulfilling domestic responsibilities, meddles in the affairs of others – she combines parenthood and a job with the investigation of real-life mysteries. This is less onerous than it sounds, since she has a supportive musician husband and a childless housekeeper who helps care for her two young sons as if they were her own. Conveniently, her job as owner-editor of a quarterly philosophy review also leaves her enough time to help out at her niece Cat's delicatessen.
Isabel invokes John Donne's meditation that "no man is an island" to satisfy herself that her well-meaning interventions are justified. In this novel, her crusade is launched by a cry for help from an old school friend Bea, who, much given to matchmaking, fears she has unwittingly paired off an unsuspecting acquaintance with a gold-digging man. As Bea says, Isabel has "a reputation for helping people" and for "doing it rather well." Isabel lives up to this by displaying practiced sleuthing skills in excavating the truth, uncovering a twist in the tail worthy of Miss Marple or Hercule Poirot in the process.
A thread of sub-plots is interwoven into the main storyline: in the opening chapter domestic harmony is temporarily disrupted when Isabel's five-year-old son resentfully rejects a second son she gives birth to; suspicion that Isabel's ostensibly heterosexual niece is having a lesbian affair prove groundless, and the trials and tribulations of the much-married Bea, a frequenter of "gallery openings and fund-raising dinners," receive lengthy treatment. In philosophical interludes, Isabel laments that that religious ritual discourages "individual soul-searching" and ponders the unintended consequences of human ingenuity: how Edison's invention of the electric bulb altered sleep patterns, and how the Wright brothers' invention facilitated mass movement of people and made aerial combat possible.
A lighter tone often prevails: Isabel asks a political candidate named Sheila Grouse if she had been wise to venture forth on the twelfth of August; Isabel and Bea share memories of a gym mistress who denounced wayward pupils, including most boys, as "A disgrace to Edinburgh, and Isabel dismisses as "generous obfuscation" her housekeeper's penchant for calling herself a "life-style assistant." Isabel considers harmless the fashion for job-inflating titles such as bank tellers being labelled "associate managers".
Isabel shows singular generosity when offering to pay for repairs to a stranger's damaged bicycle. She is also generous with her time, sparing no effort to unravel the mystery of the suspected gold-digger. Also, rather than rebuking, she spares the feelings of the individual unmasked as the offender, but, like Jessica Fletcher, sometimes seems to be too good to be true – independently wealthy, well-educated, altruistic and enjoying domestic harmony. One wishes a few flaws on her, the better to set off her virtues.
Despite flashes of wit, this novel is unlikely to appeal to those other than established fans and those seeking an undemanding and mildly diverting read. The problem is that it is difficult to sustain interest in a mystery plot constantly interrupted by jarring philosophical interludes and ruminations on politics and current affairs in general. Instead of being deployed as backdrop, these lengthy asides sap dramatic intensity to such a degree that the surprise denouement is a damp squib. Lack of focus has spawned an uneasy hybrid of mystery novel and philosophising, resulting in a novel which is neither fish nor fowl.
Kenneth Austin