Tweet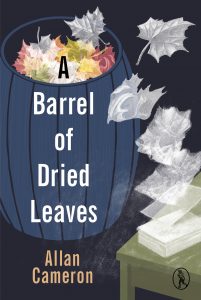 A Barrel of Dried Leaves rakes together the "corroded" past and "sing[s] the anthem" of change and patriotism in a galvanizing, all-encompassing way. The collection veers away from the expected self-exploration and, without obscurantism, places the reader in a world-reaching, overarching search for human identity. From the start, Allan Cameron challenges national identity—the entirety of us. In "The Man With Soul So Dead," he calls us to connect cultures:
Count human not compatriots […]
All men are one as are all nations,
and free them both by making countries.
The opening poem, "Freedom – I" addresses the notion that a free nation is equivalent to a liberated self.
Freedom, corroded word,
who could sing its anthem now?
Who could name the essence
of its deflated self?
Here, Cameron, "dumbfounded by the stats for passport types / of human being[s] / which exclude others, luckless and unstamped," addresses the way change has redefined freedom, and consequently, how the word and world is again in desperate need of change. A Barrel of Dried Leaves implies that the reader, a mere self in the scope of a nation, is responsible for our iconoclastic degeneration in a unified world. Perhaps the poet realizes that we have become rebels with a cause, but without action. Consider "Significant: Edgy Is Forgotten Now," but also, "The String behind the Salt Crystals or Art and Intellect Lost to Power," which admonishes the reader directly:
You
claimed the heights of intellect and art
but they caught you in middle-class mores
and taught you to love approval,
not removal from the self
which alone allows creative acts
founded on human justice,
not selective facts.
"The Clever Man or An Epitaph for a German finance minister who killed the E. U. dead and told the Demos what to do" is indeed about that man, insightful and yet, inexperienced. Cameron points out that without the latter, the former lacks productivity. In "Lesson in Italian Anatomy," he focuses on limbs, serving the same human purpose in all human bodies, sharing the "decay / and luxuriant revival / of all that lives." This poem seems to suggest that man's equality is evident in the very core of his being. "The Little Language" epitomizes the poet's focus on change:
Let me make a plea then
for this little language that has become too strong.
you say it must evolve and sculpt new voices
fitting to the virtues and vices of our times,
and how right you are.
Simultaneously, A Barrel of Dried Leaves expresses of the poet's own narrative style. "The Politburo in the Sky," — a conversation between nature, "a little man," a judge and demons, and "Sugared Plum," questions the role of "God" in an honest, thought-provoking way. "The Mystic" deserves significant mention as, with presbyopic focus, it tells a tale intermingling death and life, hope and hate.
Cameron succeeds in composing an ironically self-reflexive poem about the struggle and sentimentality of a poet in "The Poet Spoke." Words are considered perfect, and poignant: "and how well they carried it, / that truth, I mean." "Poets and Poetry Writers" continues this theme:
Being a poet is no fun:
always staring pensively
at a slightly disappointing distant horizon
[…] a burden to be borne with courage.

[…] Writing poetry is fun,
just as the ad for the creative writing course promised
(and you never went),
jotting down ideas that don't always work.
Closing the collection, "This" offers fifteen stanzas focusing on this life and the nows along the way:
When life's end comes, it's a book that's writ
and left unread.
No chance to correct and polish here
[…] It's a story randomly told and what it lacks and anchors
is made up for in its tragicomic commerce of traducements
and prodigal human passions.
A Barrel of Dried Leaves asks us, individually and collectively, in passion and integrity, to not only accept transition, but also pursue transformation. "Ah! Make a song of that!"
Shanley McConnell