Tweet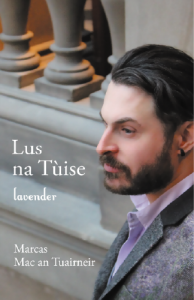 Lus na Tùise is, by any standard, a beautiful book and it is, perhaps, fitting that this parallel Gaelic-English collection was published in Nova Scotia.  Those who have set expectations of what Gaelic poetry may be, are already alerted that all is not as it seems; Marcas Mac an Tuairneir hails from Yorkshire and has chosen to immerse himself in Gaelic language and culture. Already this book is crossing territories.
Mac an Tuairneir's title sets out his case immediately, referencing the "lavender" inter-war generation of gay activists. These poems both explore, and offer homage to, their suffering and courage, but they also ask what it is to be a gay man now in our allegedly more open culture.
How then should we read this collection? Lus na Tùise calls for repeated readings. Dipping in and out, sometimes in Gaelic, other times in English, these poems are vast in subject matter, emotion and depth. The text is exquisite on the page.
In the foreword Emily McEwan-Fujita talks of "multiple spatial and temporal dimensions: Highland, urban, transnational, and virtual; past, present, and future". This is an accurate picture of where we are – on a precipice, post-Brexit, post-Trump, all this and in poetry. Rapid and uneven change abounds. In that rich and varied context, I can only highlight examples.
"Crann" ("Tree") speaks of a artist creating a metaphoric linguistic tree; Eurasia's tongues, ascending from the same root. In addition to that trajectory from the Proto-Indo-European language source to the two of this collection, this poem also takes me to Kells, with the past sharply brought to focus.  Equally, "Crann" acknowledges our humanity across continents and lands, over oceans and the cycle recycling.
I loved Martyn Bennett's work and recall the shock of his premature death; "Grinneal" ("Grit"), written in his memory, alludes to the documentary retelling of his story.  He left his last collection of music, after which the poem is named, lying on the "technological hearth", crossing all those boundaries we should not ‒ would not ‒ dare to cross. Yet Bennett blew them all out of the water. When language, music, words and colours are thrown rapidly up in the air, this is where they land; in a different place altogether. In his poetry the Mac an Tuairneir has taken Bennett's mantle and impetus.
"Gun Ainm" ("Unnamed") is an eight-poem cycle in the form of letters between lovers; a Hebridean man and a soldier at the front in the Great War. In this time of muted sexual identity and linguistic identity dismissed, Gaelic had been systematically murdered. The poem remembers those especially vulnerable men who escaped enemy lines, speaking only Gaelic, to make it home. These are beautiful pieces, full of love and longing. The distance is there, and the cianalas (home-sickness). We can only hope that the 'unnamed' is still waiting in the sheiling.
"Bioran" ("Pins") is concrete in form. A triptych of pain and trauma, powerful and intense, it is personal yet universal. The bone of the cheek, the bone of the jaw and the bone of the eye-socket; I see three nails on the page.
This collection is of our time, while simultaneously acknowledging our pasts and injustices. It points to hopes of better times. There is, in Lus na Tùise, a coming out of the darkness of old Scotland, her cultural and sexual cold storage, and into the new. As such, this is a significant collection, for those able to read either language, though the greatest joy will be for those who can appreciate both tongues. Mac an Tuairneir has written an important and brave addition to the contemporary Gaelic canon.
I'll happily drink to that.
————————————-
Chaidh Lus na Tùise a sgrìobhadh le Marcas Mac an Tuairneir agus a chur a-mach le Clò a' Bhradan ann an Haileafacs Alba Nuaidh. Chanainn gu bheil seo freagarrach. 'S e leabhar brèagha a th' ann,
Chuir Mac an Tuairneir an t-ainm 'Lus na Tùise' air a' chruinneachadh aige air sgàth luchd-iomairt gèidh eadar na cogaidhean. 'S iad dàin càileachd agus fulangais a sgrìobh e agus cuiridh an cruinneachadh ceistean oirnn. Dè tha e a' ciallachadh a bhith gèidh san là an-diugh? A bheil sinn idir nas fhosgailte?
A' leughadh fìor leabhar bàrdachd sam bith, bidh mi dualtach a bhith a' tilleadh thuige a-rithist agus a-rithist. Uaireannan bidh mi ga leughadh ann an Gàidhlig agus uaireannan ann am Beurla. 'S e leabhar dà-chànanach a th' ann. Tha iomadh chuspair ann agus tha e làn fhaireachdainnean agus doimhneachd. Tha an teacsa a' coimhead dìreach àlainn air an duilleig.
Thuirt Emily NicEòghainn-Fujita, ann an rò-ràdh an leabhair gu bheil a' bhàrdachd a' riochdachadh "saoghal aig a bheil iomadach crìoch spàsail is aimsireil: Gàidhealach, dùthchail no bailteil, tàr-nàiseanta no didseatach: mar a bha, mar a tha, mar a bhios". 'S ann mar sin a bhios sinn uile, nar seasamh air an oir – às dèidh Breat-a-mach, às dèidh Trump – is tha sin uile an cuideachd a' bhàird is a chuid bàrdachd, cuideachd. 'S toil leum iomadh dàn anns a' chruinneachadh, ach seo roghainn den an fheadhainn às fheàrr leam.
Bidh "Crann" a' bruidhinn air dealbhadair coslachd, no meatafoir, a' cruthachadh craoibh, gheugan cànanaich le gach teanga Eòrasia a' tighinn bun aon fhreumh. Tha mi a' smaoineachadh air an Ceanannas Mòr air aon làimh agus air an làmh eile, air daonnachd thar nan dùthchannan, thar chuantan mòra; an cuairt a' dol mun cuairt 's mun cuairt gun stad.
'S fìor thoil leam an obair aig Màrtainn Bennett. Tha an dàn, "Grinneal" –  cuimhneachan air Bennett fhèin – a' dèanamh luaidh air a' phrògram aithriseach mu dhèidhinn a' cheòladair agus seanachaidh seo. Chaochail Màrtainn cho òg; rud a thug babhscadh uabhasach oirnn. Dh'fhàg e an cruinneachadh cheòl mu dheireadh aige air 'leac an tine teicneòlaich', thairis air na crìochan air fad, nach bu choir dhuinn, nach urrainn dhuinn a dhol thairis. Rinn Martainn sin; chuir e rocaid suas mar a chuir e cànan, ceòl, faclan no dathan, gan tilgeadh suas dhan adhar. Seo far an laigh e, ann àite diofaraichte. Tha feum again air luchd-ealain cruthachail gus ar misneachadh.
Tha na dàin "gun ainm", nan cuairt neo cearcall de dh'ochd pàirtean, ann an dreach litrichean eadar leannain; fear às na h-Eileanan an Iar agus saighdear ann an uchd a' bhatail, anns a' Chogadh Mhòr. Aig an àm seo, cha b' urrainnear bruidhinn air ionnanachd gnèitheach idir. Bha ionnanachd cànain an impis caochladh, leis a' Ghàidhlig fhèin ann an toll dubh. Ged a bhios cuimhne leinn air na saighdearan, a rinn strì an aghaidh ar nàimhdean, cha tuigear for nach do chleachd iad cànan sam bith ach a' Ghàidhlig. Fhuair iad dhachaigh mu dheireadh thall. 'S e pìosan breagha a th' anns na dàin se; glan, buileach, le gaol, cianalas agus astar eatarra. Thathar an dòchas gu bheil an saighdear gun ainm fhathast, 'a' feitheamh [ris] san àirigh'.
Tha an dàn "Bioran" math is 's ann ann an cruth nitheil a tha e. Tha trì rannan ann; pian agus cruadal a tha gu math làidir agus dian. Tha e pearsanta agus uileach aig an aon àm. An cnàimh na ghruaidh, an cnàimh na ghèill agus an cnàimh na ghluic; bidh mi a' faicinn trì tarragan air an duilleig fhèin.
'S toil leam Lus na Tùise gu mòr. Tha a' bhàrdachd soilleir agus beòthail air an duilleagan. Tha fios agam gun till mi a-rithist is a-rithist chun an leabhair seo. Canaidh mi cuideachd, gur e cruinneachadh cruinn coileanta a th' ann. 'S e obair a bhuineas don àm seo ach thug e sùil air ais air linn a dh'fhalbh, far an robh mì-cheartas gu leòr. Ach a dh'aindeoin sin, tha e soilleir, tha e soirbheachail. Leis an leabhar seo, tha sinn uile tighinn a-mach à dorchadas seann Alba, a-mach à taigh sealach, gnèitheach agus dùthchasail, agus air adhart gu rudeigin ùr-nòsach.