Tweet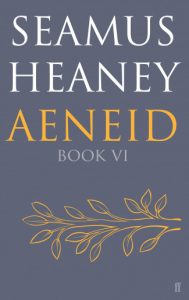 Nobel Laureate Seamus Heaney's pre-eminence as a poet is too well known to need any elucidation of course, but perhaps it is worth noting here that his prowess as a translator was also already evident in his  Beowulf.  Heaney undertook his verse translation of the sixth book of Virgil's Aeneid to honour the memory of his own former Latin teacher.
Aeneas and his companions survived the Greek destruction of Troy; Book Six describes their arrival on mainland Italy and Aeneas' visit to the underworld where the spirit of his dead father, Anchises, shows him a vision of heroic successors, unborn souls destined to become the founders of Roman greatness.
It is no easy matter to gain access to the underworld and return to tell the tale. As the Sibyl warns Aeneas, "Death's dark door stands open day and night" but few succeed in retracing their steps. Merely obtaining permission to visit is something of a bureaucratic nightmare, only achievable using the local Sibyl as go-between and guide. Access to her oracles is vouchsafed only after Phoebus Apollo has been won over by vows and prayer and by the promise of a temple in his honour, the inauguration of feast days and appointment of priests. These preliminaries observed, the Sibyl prays and sacrifices to Hecate before they set forth and she is obliged to appease an unwelcoming Charon by showing him the golden bough, plucked by Aeneas, as the passport to be presented to Proserpina upon their arrival in the underworld.
Charon's reluctance stems from previous unhappy experiences when ferrying the living and points to ancient mythology's long tradition of visits to the underworld.  Those visits are of course integral to the epic form. The narrative is deepened and enriched with classical allusions, including references to the myth of Daedalus and his son, Icarus, and mentions of Gorgons and Harpies.
Another ancient tradition highlighted is the desire for posthumous fame. Just as Achilles chooses this and early death rather than long life and eternal obscurity, so Aeneas builds a "magnificent tomb" to his fallen comrade, Misenus, in order that his name "will live down the ages." Similarly, Aeneas lifts the spirits of the shade of another comrade by telling him that his "bones will be reverenced" and the location of his tomb will bear his name "for all time."
Stanzas in Heaney's translation differ considerably in scale – from as few as five to as many as eighty lines of varied length. Heaney produces a natural effect by using plain words in blank verse, mostly iambic pentameter, thereby replicating the rhythms of everyday speech and preserving the classical elegance of the original. The unobtrusive loveliness of the language is probably more fully appreciated when the poem is read aloud. For example, the clash of hard "R"'s with soft '"L"'s matches sound to sense when "Big rowan trees crash and roll from the hilltop down." Clearly here and elsewhere Heaney is unafraid to delve into his own Hibernian origins in his interpretation. The misery of Tartarus is vividly evoked, shared almost, when victims groaningly suffer
                                                                                               the savage
                            Application of the lash, the fling and scringe and drag
                            Of iron chains.
Similes are beautifully simple as when the shades of those who died young are likened to
                              streaming leaves nipped off
                              By first frost in the autumn woods[.]
Similarly, the shade of betrayed Dido's features are described as being
                            carved in flint
                            Or Parian marble.
Internal rhyme and alliteration combine to striking effect in the following lines:
                            To think that the batter of bronze and the clatter
                            Of horses' hooves could mimic Jupiter's
                            Absolute thunder and his scowling storms!
This posthumously-published final offering from Seamus Heaney is a priceless legacy from the finest of poets.