MIRROR, SHOULDER, SIGNAL (Shortlisted for the 2017 Man Booker International Prize)
Tweet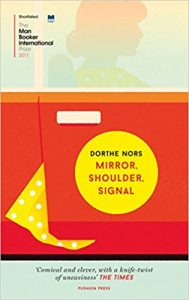 Sonja, the protagonist in Mirror, Shoulder, Signal, is a Danish translator who is working on a series of Swedish crime fiction novels. She is "over forty" and appears to have reached a midlife crisis when the novel begins. She decides to learn to drive, despite suffering from a form of inherited positional vertigo which can affect her balance and cause her to collapse unpredictably. The unusual title is thus explained – it is her reminder to herself not to turn too quickly or at the wrong angle when checking her mirror.
Relationships do not endure for Sonja, she has no common ground with her sister, and her parents have sold the family farm to a larger concern, owned by a thoroughly unpleasant character local to their village. The enduring feeling we get from her reaction to these situations is that she is adrift: unable to make decisions and uncertain of other people. Sonja is particularly unsure how to connect with her sister Kate, who seems to always avoid speaking to her on the phone, causing Sonja to write and rip up letters to her throughout the novel: Why don't I ever hear from Kate? What's wrong with me? Why the hell can't she just call?
In amongst these circumstances, Sonja's inability to feel settled or grounded is contrasted with supplementary characters – Ellen, her massage therapist, "has a practical bent…she's the type that has a grasp of the tangible." Jytte, her first driving instructor, is the opposite of Sonja in every aspect – when Sonja mentions she likes to read in the cemetery, it is stated that, for Jytte, "reading is for people on holiday, and cemeteries are for the dead". However, these characters also serve to highlight the positive aspects of Sonja's character, and their own negative ones, presenting Sonja in a growing sympathetic light.
This novel was translated into a very firmly American English by Misha Hoekstra. He was born and educated in the USA, and appears to be bilingual in American English and Danish, although his biographical information online is limited. Whilst I am not broadly critical of Hoekstra – there is a lot of good, solid and poetic translation within the novel – there is also a lot of unnatural-sounding dialogue; the stickiness and odd-sounding style is often distracting, slowing down the narrative to a standstill at some points:
"What's wrong with Jytte? Is it her big trap, or what?"
"The idea behind getting a licence isn't at all to find someone to drive for her."
"Well good grief, over here the storm clouds are piling up."
I do feel the use of Americanisms becoming grating and incongruous in the setting of the novel, especially given that the recurring theme of getting to grips with driving centres on Sonja's inability to change gears, a concept alien to 97% of the US car-owning population!
When I first started to read this novel, I found myself slipping about in the text, unable to locate an anchor of consistency to grasp onto. Characters are introduced without explanation, inner thoughts and conversations collide and clash meaninglessly, and a time-shifting narrative dips into seemingly random periods in the protagonist's life story. The experience left me feeling seasick. However, about halfway through the book, I started to look forward to resuming Mirror, Shoulder, Signal. Whether it was by clever authorly design, or the happiest of coincidences, the reading experience reflects the development of the main character as she sloughs off her baggage and moves into a more positive outlook on her future.
For the reader, the reconnection of a rootless woman with her roots is an immersive experience, which, despite clunky translation in places, arrives at a satisfyingly vague conclusion. I never thought I would say this, but I genuinely look forward to reading whatever Dorthe Nors writes next.