DJCAD MASTERS SHOW 2017: MFA, Art and Humanities
Tweet
This is a diverse group of artists, but there emerges from their work a unifying theme of ethical challenge and political awareness.
Rishi Srinivasan questions the colonisation of India in his work entitled Peace in My Head. He uses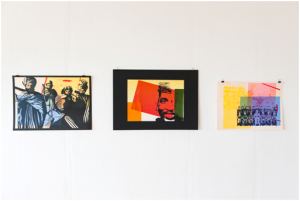 distinctive motifs: Dhristi Bohmai masks, commonly found in the south of the country to ward off evil spirits, and an AK47, both in their differing ways representing the violence and chaos left behind by Western invaders. A scrap book depicting the horrors of war carries anti-violence, anti-capitalist messages. In a series of black and white photos blended with brightly-coloured shapes, Srinivasan asks us to reject colonialism and to reflect instead on his country's abundant cultural history.
Along the corridor Clara Lang-Ezekiel also asks us to reflect on colonisation, this time that of Africa. She reminds us too that that continent's history is rich and inspiring. In a set of seven monoprints on brown parcel-paper we see portraits of notable African leaders. Overseeing them all is Queen Nzinga of the Mbundu people, who regained power from the Portuguese in 17th century Angola. Lang-Ezekiel uses that Queen's regal image as a striking design motif on clothing. In a small, hand-made leather-bound book, embossed with a map of Africa, the artist tells the stories of seven African leaders, including Patrice Lumumba and David Kato.
Repentance and Rebirth, by Jacinda Chan, is an emphatic rejection of greed and excess. A golden phoenix rises from a lotus garden made of felt, representing a desire to reject capitalism and be "reborn". Her repeated frog motif seems childish initially, until you dig deeper and realise what it represents: bankers or money-men who grab what they can and consume without thought. A golden toilet bowl sculpture represents waste and excess. Through her work, Chan urges us to reject capitalism and wake up to the fact that greed is at the root of wars and corrupt governments.
Kathryn Oltrogge's A State of Becoming is beautifully and thoughtfully presented. Her space is set up like a cosy living room, complete with sofa and carpet, encouraging us to stop and enjoy the moment. A bookshelf houses her influences: Willie Doherty, Wolfgang Tillmans, Vivian Maier, John Berger and Yuriko Saito. On the opposite wall is a large cluster of different-sized photographs, mainly of town and cityscapes; a powerful black and white image of the Tay Road Bridge is in the centre of the grouping. Oltrogge sees beauty in the everyday and aims to capture scenes that might otherwise go unnoticed by focusing on a city's areas of neglect.
In the same way, Astrid Leeson's mixed media pieces explore the parts of a city that most other people would pass by. She finds glory in urban decay: old pieces of fencing, wire and wood all become things to admire. She is inspired by the greyness and "otherness" of derelict buildings and fascinated by the mundane: bricks, peeling paint, pieces of plastic, metal barriers. Endlessly walking and exploring, she takes copious sketches and photographs to use as a basis for larger pieces. For Leeson, it's about emotion – how she feels about the greyness of concrete, the brokenness of wood and the attractiveness of "non-spaces". Through layers of colour and texture, she reveals things we may have too easily missed.
In a similar vein, Helen Angell-Preece's Things Fall, Fall Apart is a collection of large architectural wooden structures that seem to invite us in, and yet have no roof or solid walls. We feel vulnerable and exposed; hostile angles give a feeling of discomfort and uncertainty.
This year's work is powerful. It makes us think about how we can make the world a better place for future generations. Thankfully, hope shines through.