FOURTH PERSON SINGULAR (SHORTLISTED, 2017 FORWARD POETRY PRIZE FOR BEST COLLECTION)
Tweet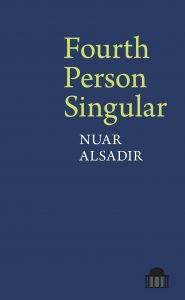 At the intersection of poetry, philosophy, and psychoanalysis lies Nuar Alsadir's Fourth Person Singular. The title is a play on words. If to speak in the third person is to speak removed from the situation, the proposed fourth expands on this separation This manifests in the dreamy detachment and self-reflective awareness that underlines the collection.
Teetering in scope, Fourth Person Singular at its best, it offers an analytical study of the self, a picking apart of actions and an attempt at understanding the underlying motivations of the self. At worst, it is picking that leave very little – a raw and exposed, vulnerable and weak self, a violent self-efficacy:
If what you name cannot prick you, how can you bring the punctum into language when interactions seem dulled, not pointed enough to poke through?
Challenging philosopher Roland Barthes, Alsadir presents us with the problem that nothing feels poignant when passing into the monotony of routine. Her solution is to disrupt this: "I began to use a method of accessing my interior…setting my alarm for 3:15 a.m. and waking for a few seconds to write down whatever was at the top of my mind." The resulting pieces are then presented to us in non-chronological order, further rejecting routine and linearity:
38. It is difficult to get loud without losing control.
The freedom of tearing away from repression – both inherent in routine, and in a broader, more encompassing sense – is presented as both scary and liberating; but necessary. Later, her fragmented writings give way to a denser, prose-like structure. The catalyst for this is a simple piece of graffiti that reads: "Fuck lyric". She takes us to a wider conversation on her obsession and frustration with the lyric form and its limitations, thus explaining the sudden change. The subsequent text then leads into a wider discussion of narrative and representation, suggestive a more cohesive narrative. It is in this vein that she writes, "We are always operating this lag to a degree, even neurologically…what we experience as now is, in fact, about eight milliseconds in the past…" The body as a lens is a theme revisited again and again.
Toward the end of this collection, Alsadir presents us with a series of non-chronological "sketches" expressed both through word and drawings. The first presented is Sketch 37, in which she references philosopher Žižek's proposal. If someone asked you to spit in a glass, then swallow your own saliva, this would likely repulse you; in response Alsadir asks, "The lyric is that saliva in a glass, but what does it incarnate?"
What is it that resides in the abscesses of ourselves that repulse us? Interpreted in a strictly physical sense, the saliva represents the unpalatable aspects of existing in a human body – the blood and guts. In a wider sense, it figures aspects of ourselves we subdue, repress, or gloss over: our capacity to hurt, to be cruel, to be unlikable, let alone lovable. There is a hidden fear that lingers somewhere even the most well-adjusted person: am I worthy of love? These are questions Alsadir probes obsessively throughout this collection. Considering this, it then seems apt that Alsadir would paraphrase Louise Bourgeois on the first page: "I want to be transparent. If people could see through me, they could not help loving me, forgive me". The implication is that to be understood completely, is to be absolved of our transgressions. The lack of control we hold in how we are perceived feels almost like a trespassing – the "fourth person" singular can then be thought of as the urge for the omniscient narrative.
A wholly unique collection, 'Fourth Person Singular' is as much about what is revealed as why it is revealed, and also what still remains hidden still. Existential questions of selfhood merge with the everyday phenomena of living, while the limitations of language and poetry to give expression to these issues are examined. The result is a self-aware text existing firmly in a dimension of its own.