Tweet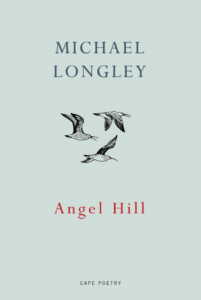 Michael Longley has been the recipient of some of the most prestigious literary prizes in the world, including the Whitbread, the T.S. Eliot Prize, the Hawthornden Prize, and most recently the 2017 PEN Pinter Prize. Longley calls his home in Carrigskeewaun, Co Mayo his 'soul-landscape'; the environment that feeds and inspires his soul. In Angel Hill he explores a new 'soul-landscape', one that belongs to his artist daughter Sarah Longley, and one that is just as beautiful and rich as their family home on the west coast of Ireland. Longley's preoccupation with love, war, death and nature are all present in his most recent collection which is named for Angel Hill, a burial ground on the Isle of Skye that rises behind his daughter's cottage. The collection's title is aptly named, since a graveyard is not merely a monument to death, but also to people who were part of the inescapable life of the natural world; Angel Hill feels very much like a collection of small monuments to the lost people and moments of Longley's own life.
The majority of the poems in Angel Hill are short and neat, with a sparsity of language that manages to capture everything without embellishment. Longley's economic, matter of fact phrasing allows him some – often devastating – emotional hits. In "Pine Martens", he lulls you with the depiction of his granddaughter singing nonsense in the morning light, pulling at your heart as her singing captures the ghost of John Campbell who
Lived here years ago and fed
The pine martens and walked depressed
Down the burnside boreen in his socks
To Lochalsh and drowned himself there.
I couldn't get the image of a graveyard out of my mind; while I read this book, I felt that I was with Longley walking among the headstones, listening to memories sparked by names, dates and epitaphs carved in mottled stone. In a recent interview, he said that the "worst thing about growing old is losing friends". His grief is particularly evident in the elegiac tone of poems such as "Dorothy Malloy", "Menu", "Badger", "A Thistle", and "Room to Rhyme" – all quietly emotional memorials that bear witness to the person and their passions as Longley knew them.
Memory and loss are Angel Hill's central preoccupations, Longley's nature imagery is not only indicative of the passage of time, or aging, but also recalls the natural cycles of death and life. His "larks nests",  "chestnuts and acorns",  "pale February catkins too late for orchids now … too soon for sloes/ Or elderberries" secure these moments to a point in the seasonal cycle which, given a few months or a year, will be new again, refreshed and vital. Time is most evident in the poems that capture Longley's marriage. In "Fifty Years", Longley, with a pleasing simplicity, writes of their life together, walks taken "again and again", season after season "for fifty years, man and wife, voices low, / Counting oystercatchers and sanderlings". And rather heart-warmingly, his continued passion for Edna in "Monarch" is framed within time and nature:
If I were inside you now
I would stay there for ages
Until the last migrating
Monarch butterfly had left.
Angel Hill is an intimate and emotional journey through not only the physical landscapes that inspire Longley but the moments, small and large, that have influenced his life: the feathers and letters and tragedies that have taken seed in his 'soul-landscape' that have bloomed year after year, propagating love and pain and inspiration. I am very glad to have shared his invitation to walk with him, and you will be too.