Tweet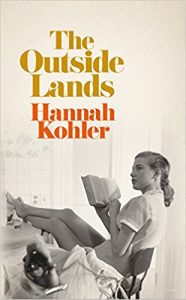 The Outside Lands is an evocative and sensitive exploration of the quiet turmoil of self-discovery in 1960s America; it is beautiful and painful. Death intrudes on the lives of Jeannie and Kip when their mother is killed the same week JFK is assassinated. As the nation grieves for its President, Jeannie and Kip grieve for their mother. Personal and private worlds bleed together, and both protagonists struggle to reconcile their inner lives with their outer.
This inside/outside dynamic is absolutely the most engaging aspect of this novel. Characters' big brooding problems are reflected in the major events of the era; Kip is caught in a war against the communist concept, a war that no one really understands. And as Jeannie continually comes up against the expectations of her sex, sexuality and sexual relationships, she finds herself involved in the budding feminist movements and 'free love' ideals of the encroaching '70s.
Despite the background of the war, The Outside Lands is ultimately a novel about choices: characters' aspirations, expectations and disappointments revolve around small moments of decision with far-reaching consequences. Jeannie and Kip are emotionally reserved and stubborn, but both are easily goaded into snap decisions. Kip feels the weight of adulthood pressing him to be something, do something with his life, and often finds himself alone and in trouble after some taunt or another. Unlike her brother, who barrels forward into theft, drugs and the Marine Corps, Jeannie is not an active participant in her own life. Things happen to her, people push or pull in different directions, and she goes along with only despondent resignation. Even when she finds herself married, a mother, and out of her depth in her new social circle, it takes a forbidden kiss from a temerarious young woman to shock her out of her ambivalence.
There is a sense of foreboding throughout the novel which is nurtured by switching character point-of-view in each chapter. Key events happen 'offstage'; explanations are sometimes long in coming and the bubble of anxiety intensifies until they do. Kohler seeds this atmosphere of disquiet with figurative language that fuses odd concepts into slightly offbeat, yet perfectly vivid images. The effect is sometimes startling and often left me with brilliantly peculiar metaphors ringing in my ears:
"He got dead by degrees. Little facts flapped in the air and stuck to us like bugs till it was hard to think for the itching of them."
In keeping with the inside/outside motif, metaphors reflect the environment as much as they shape it; Kip's first night in the jungle is fraught with fear and anticipation, but he is outwardly controlled. Kohler colours the failing light of the sun as if his fear had emptied his bladder: "There's one lick of light left, running warm down the length of a tree trunk and over the forest floor."
Kip's inner world becomes his outer, as the jungle and the night express his turmoil. I was surprised to learn that Kohler is both too young and too British to have any experience of the Vietnam War. She borrows her dialogue from US TV programmes, and it is brilliantly done. The idiosyncrasies of American English are firmly intact, and the phrasing, vocabulary, and energy of each character is different enough that changes in age, sex and social class are immediately discernible.
I truly enjoyed The Outside Lands; I expected a war novel, something bloody and preachy. What I found was a novel about people; private people, public people, and that aching pressure between personal desire and social expectation. Jeannie and Kip may be characters shaped by the social expectations and national events of the 1960s, but their motivations and anxieties are relevant to an audience from any decade. Kohler sucked me in with her quietly dynamic phrasing and a masterful build of tension and character, and I couldn't put it down until the final page.