Tweet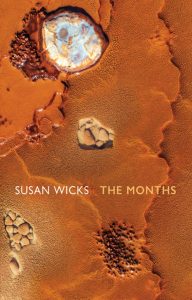 Already from the south
            I heard them weeks ago
            creaking above me through the air at dusk –
            and then the cold. Eighteen below,
            each pond a cataract of ice. Where did they go?               ("Where")
"[A] book of poems about time", the back cover of Susan Wicks' seventh collection informs us – in particular, "human time that speeds up or slows, expands and contracts, measured by perceptual rather than scientific laws". Though it lays claim to all manner of durations, time in the collection is mostly of the "slow" and "expansive" sort.
One of the collection's earliest pieces, "April is the month for cutting up a map with scissors", is pleasingly palpable; the enjoyment in performing the titular activity is evoked well, the narrator elevated to godly status as the blades "sever wood / from orchard, orchard from reed-clumped marsh". Another captures the flinching pain observed in a runner stopping to drink:
[…]bone and ligaments and cartilage
at ankle hip and knee
crunching to hard hot lumps, and in his legs an ache
pulsing like veins from heels to lower back[…]                ("Runner")
Meanwhile, "On Cromer Cliffs" is a gratifying piece in which the narrator watches a man attempting to fly a model plane for the first time:
[…]for half a breath
he must have left himself
to fall between the shells and seaweed on the beach
with no one's saving hand at the controls.
While there are several deft turns of phrase and neat metaphors, many of the poems lack an overall unique structure and distinct sense of character; descriptions of train journeys in two different stanzas, for instance, might be interchanged without any real sense of alteration to the poems. Few conceits are allowed to develop before the symbol of focus switches, and the repeating of some metaphors, also, does not satisfy – the "cataract of ice" in the first poem quoted is dulled with its reoccurrence as a "cataract of snow" in "February 2013".
The poems in The Months don't appear to speak to one another. Phrases delight – a secret is let out "like a cartoon cat and down the snowy street / it scampered"; a mother-to-be dreams of her child being "born / like a silk scarf out of a top hat" – but there is not a feeling of completing the assembly overall. Other than demonstrating that the poem is a poem, the reasoning behind the stanza division in many places appears arbitrary, and more often than not, images appear and fall away without leaving anything in the way of lingering impact.
In the "March 1978" stanza of the central poem, for instance, the narrator makes and eats huge quantities of coleslaw (a pregnancy craving), searches the housing market, notes a James Bond film on TV and yellow crocuses blooming outside, and is driven to a pub to play darts. It's a vaguely interesting snapshot of a life, but forgettable as soon as the page turns. If one searches them out then some elements do crop up to echo previous ones – the cabbage for the coleslaw being sliced "thinner, thinner" appears again in "May 1978" as the baby in the womb who "kicked the wall between us / thinner, thinner" – but they require active searching and remembering, rather than being sufficiently striking to   recall with ease.
It is a densely woven collection, rich in figurative strands, and as such is not readily summarised, nor readily, er…read. It is to be taken slowly and savoured; little of it trips lightly off the tongue. I could make some quip about a collection on the subject of time taking a lot of the stuff to get through; yet this would be unfair. The Months has its moments but, across its duration, the parts are more than the sum. It simply does not light a spark for this reviewer.