TO BE A MACHINE: Adventures Among Cyborgs, Utopians, Hackers, and the Futurists Solving the Modest Problem of Death
Tweet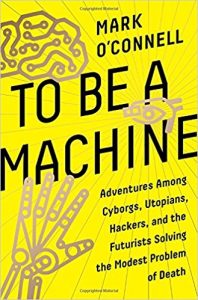 You know that episode of Friends where Ross is on one of his mildly patronising rants, oblivious to his friends' disinterest? Yes, I realise that doesn't narrow it down. It's this specific one, when he states: "Soon, there will be computers that can carry out the same amount of functions as an actual human brain! So…theoretically you could download your thoughts and memories into this computer and live forever as a machine".
Well, this book is basically about that. Except a hell of a lot less patronising. And I loved it.
Split into thirteen chapters, the book sees O'Connell meet and speak with a wide variety of transhumanist proponents in a wide range of contexts – from academics at conferences, to taking researchers out for dinner, and eccentric people who deeply believe in this multi-faceted ideology. O'Connell is the ideal candidate for this sort of exploration. He boasts both a doctorate in English Literature from Trinity College Dublin, and is an esteemed journalist in his field: regularly contributing to publications such as Slate, and The New Yorker. He effectively channels intellectual commentary for a wide audience through his accessible, engaging writing.
For the most part, O'Connell's itinerary is well thought out, but there is a healthy dose of just winging it, which keeps this format well-paced and interesting to read. Our future with (or under?) AI and the existential questions this raises: matters of ego and morality, and the disembodiment of our ever socially-connected age are all offered up as food for thought.
But despite its heavy subject matter, O'Connell conveys these issues in a light-hearted, drily witty way, without ever patronising the reader. Oftentimes he relates the macro to the micro: using his own small family as a way to make sense of these huge, oft overwhelming issues. I like this: it offers a human, personal touch. As opposed to educating you, O'Connell is a friend viewing the transhumanist movement with a healthy dose of scepticism alongside you, and whispering jokes in your ear – more of a Chandler than a Ross.
A particularly interesting aspect of this novel – amongst very many – is how O' Connell highlights the synergies between worshippers' devotion to their deities, and the sense of devotion and sacrifice the transhumanist movement holds for their ideologies: "We will, in other words, finally escape the fallen condition of our humanity, finally become unfleshed; we will be restored to a prelapsarian state of wholeness, a final union in which technology will take the place of the Abrahamic God", writes O' Connell, in response to a text by futurist Kurzweil.
This link that O' Connell highlights is surely a fascinating one. To some degree, the transhumanists' devotion to their technologies is not only about the technologies themselves: it's what they represent. Immortality. A solution to the problem of death.
"As a transhumanist, I have no regard for death", says one of O'Connell's interview subjects, Natasha. "I'm impatient with it…we're a neurotic species – because of our mortality, because death is always breathing down our necks".
And isn't this what humans have been striving for, for a really long time? After all, even ancient religions are rooted in the promise of an afterlife: a life beyond death. In a sense, O' Connell seems to be hinting that for all this futuristic discourse, and fetishisation of continuous progression, isn't it all rooted in the same anxieties humanity has always held?
The best way to describe this novel is by likening it to an anthropological study of sorts. I feel this book is accessible, entertaining, informative and moving for the reader, irrespective of his or her knowledge in technological fields – the topics raised really do affect us all. To Be a Machine really ticked every box for me, and I eagerly anticipate O'Connell's next work.