Tweet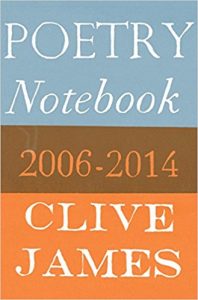 Clive James' name suffices as its own introduction; with Poetry Notebook the Australian author, critic, broadcaster, poet, translator and memoirist excels again. Following his two most recent collections (Sentenced to Life and Injury Time) this was a moving, educating and stimulating read. James, as usual, writes with witty relish which both motivates and challenges in the practice of reading and writing poetry.
James' critical mind and lifelong devotion to the written and spoken word is brought immediately to the fore when, in the introduction, he explains: "…a lifetime of thinking about the subject [poetry] had…left me with a thousand thoughts. To register them, a Poetry Notebook was the ideal form." (xvii) Introducing many unfamiliar poems, the breadth and depth of his knowledge of poetry, literature and the classics is impressive. By the close of the book, the reader's already substantial "to read" list will have expanded tenfold at least.
The style is uniquely Jamesean, intensely deep and intensely amusing in turn; indeed, his voice is so well-known that it is impossible not to hear him reading aloud as the pages are turned. Poetry Notebook's layout is one of essays and interludes, that is, robustly academic articles interspersed with lighter, passing thoughts. The overall effect is therefore to be challenged and entertained in equal measure.
In "Little Low Heavens", James is certain that while we can develop a series of working definitions for good poetry, these do not automatically stitch together to result in either a "good" or "memorable" poem. Yet he does remain certain that good poetry is instantly recognisable and memorable. He also places the weight of responsibility on the reader to move beyond ignorance. This is neatly wrapped in an image of Sir Walter Raleigh "warming his hands at the blaze of his own vocabulary."
The essay "On a Second Reading" deserves to be read and read again, as an analytical blueprint for close reading. In, for example, James' analysis of Stephen Edgar's "Man on the Moon", he finds a major flaw in Edgar's self-quotation, yet also concludes that, "the crack in the golden bowl did not stop it holding fruit." Reading should be undertaken with full mental and emotional engagement: "So much can happen, and in such a short space, only because we bring our own history to the poem, even as it brings the poet's history to us."
In "Poetry Archive Tour", he argues that good poetry is integral to an understanding of our fellow man and our world, and also as a window which frames this world. We should welcome being both unsettled and de-stabilised: "…poetry in general can be said to arouse the disturbing possibility that history will give us a poetry more interesting than serenity."
On a lighter note, he counsels writers to know themselves, citing the case of the novelist Jack London who "longed for success as a poet" but "never wrote a stanza that anyone wanted to remember".  James concludes "poor guy, he was condemned to fame and wealth: a fate that most poets avoid". Any practising poet, fame and wealth skilfully avoided, can feel like prey caught in the fix of James' stare, with criticisms such as:
At a time when almost everyone writes poetry but scarcely anyone can write a poem, it is not hard to wish for a return to some less accommodating era, when the status of 'poet' was not so easily aspired to…
The need to read poetry and to read about poetry, is both vital to understanding and practice. Great poetry is rooted in desire and passion but needs a foundation to succeed. If James frequently brings the modern poet up short, endorsing  mastery, focus, attention, perception and talent in writing poetry, he practises what he preaches, writing unerringly beautifully in tight form.
The lasting effect of Poetry Notebook is to accept the challenge to read better, and more, and to pull apart your own compositions with a newly-educated eye. It is difficult not to want to live life again, if only to read and read, and read some more.