EXIT WEST (Shortlisted for the Man Booker Prize 2017)
Tweet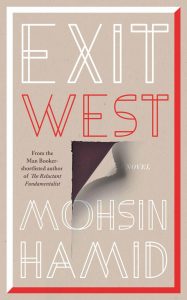 Twice short-listed for the Man Booker Prize, Mohsin Hamid is an author who never disappoints. Born in Lahore, a place that has suffered bombings and terror attacks, Hamid has taken inspiration from one of his own personal crises and created his fourth short novel Exit West, where we join hopeful couple Saeed and Nadia on their search for refuge.
Their story is told like a realist version of Harry Potter for adults, but with more purpose. Hamid's use of magical doors for ordinary people represents the opportunities migrants and refugees may take in order to escape war, threat and poverty in their own countries. Hamid shrewdly leaves space for the reader to get creative and to interact with the novel, as he avoids adding any details as to where Saeed and Nadia are from, allowing the reader to insert themselves into the world of the characters and lending an air of universality to the tale.
The down-to-earth, grounded and outgoing style of language and third person omniscient narration make the reader an invisible, but intimate presence within Saeed and Nadia's personal thoughts, feelings and situations. "Nadia and Saeed stood side by side and did not hold hands but felt the gentle pressure of their arms together, through their sleeves" the reader is almost like a silent unmentioned character standing behind them, watching.
Within one of these situations Hamid uses the phrase "the heart of darkness" which would, and rightly so, make the reader think of the Joseph Conrad novel. Both stories take the reader on a relentless and dangerous quest for safety that may never be found; this leaves the reader pondering what they would do in these extreme circumstances, giving the reader a sense of newfound appreciation and gratitude when returning back to his or her own safe reality.
While Saeed and Nadia's reality could be far from that of most readers, Exit West is relevant to all lives and circumstances, for Hamid's purpose in writing this book does not go unnoticed: the reassurance he gives, through Nadia and Saeed's continued change of plans, that life cannot be planned. A change within oneself, which happened to these protagonists, while attempting to put these said plans into action can change the plans themselves, thus, proving that life can never go to plan or indeed be planned as it did for Nadia and Saeed.
However, like Viktor Frankl's Man's Search for Meaning about his survival of the Second World War, Hamid reflects the same message, as he dramatically writes that we may "murder from our lives those we leave behind" but demonstrates that we adapt, we move on, we cope and we continue to exist in spite of this.
Whilst at first, the idea of the mysterious doors can be hard to grasp due to the subject matter being so real and hard-hitting, it soon becomes clear that the fantasy elements of the magic doors divert away from the real world and in turn make it easier and less painful to talk and read about.
I thoroughly enjoyed reading Exit West; Hamid's style of writing makes this an effortless and quick read, and I read it all in one session due its short chapters: "the girl whispered something to her, whispered, and then her and Saeed turned and stepped through the door and left Mykonos behind." I had to know what was waiting for Nadia and Saeed on the other side of that door, making my anticipation of what the next chapter would bring grow throughout.
Exit West leaves a long-lasting impression and a craving for more realism from the brilliant writer that is Mohsin Hamid.