HOME FIRE (WINNER, 2018 WOMEN'S PRIZE FOR FICTION)
Tweet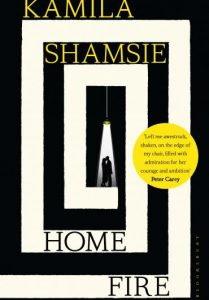 Kamila Shamsie's seventh novel is a modern-day retelling of Sophocles' Antigone. Though most of her novels have been decidedly international in flavour, Home Fire is a wholly British Greek tragedy. The complexities of incest and the law of god have been traded for the complexities of morality and the rule of state. A novel of two halves, the first encompasses intimate stories of family, love and betrayal – siblings Isma, Aneeka and Parvaiz grew up with only each other; as the pull of adulthood threatens to separate them, they grasp for a sense of purpose and direction, but only succeed in tearing themselves apart. The second half is Sophocles' Antigone in all its intensity and high drama. Though it sometimes feels like a squeeze to fit Shamsie's characters into the Sophoclean mould, Aneeka especially seems more driven by grief than any greater sense of justice. But in our modern, hugely self-centred times, characters driven by emotion and railing against an overbearing state feel more relevant.
Shamsie's prose is uncomplicated, and has a lightness to it that sometimes seems inappropriate, given the gravitas of the plot. On the other hand, that lightness allows the characters to develop in a more natural way than if Shamsie had been more heavy-handed when re-shaping ancient characters into modern ones. The tumultuous romance between Eammon and Aneeka, and the isolation and vulnerability of Parvaiz painfully contemporary in their introversion and naivety. Sophocles gave Antigone's sister Ismene little more than a handful of lines to express her differences. Ismene is more inclined to bow down to the rule of state than to passionately rebel for the sake of her family. Shamsie gives Isma the opening chapters to grow those few Sophoclean lines into a compelling character of quiet strength and wry humour.
After being orphaned by a jihadist father and soul-weary mother, teenage Isma is left to raise her young siblings. Her whole life becomes centred on bringing two children into adulthood with love, principles and faith. Finally able to pursue her dream of a PhD, she travels to New England, where she is suddenly alone. She studies alone in a coffee shop, lives alone in a tiny flat, with only her own desires for motivation. When Eammon, the son of a cabinet minister whom her family knew in his youth enters her life, she reaches out to him despite the old animosity and the potential risk to her visa. Both Eammon and Isma are seeking something more, something beyond their family responsibilities and reputation. The depth of the connection between them is palpable, even in the small misunderstandings of a Christian boy and a Muslim girl. Unfortunately, their story is never explored and, like Isma, I feel a 'sense of enormous loss where there had been so little to lose.' I can't help but wonder where Shamsie would have taken these characters had they been unfettered from the bindings of plot and expectation.
The conclusion of Antigone is unsatisfying and tragic, and Shamsie does not disappoint: she embraces the high drama and returns to the intimacy of the opening chapters, foregrounding personal relationships and delivering a devastating picture of a battle between governmental might and individual determination. In another time, I would have said that the portrayal of political sniping and borderline despotism was ridiculous. However, considering the current state of western politics, the discrimination and mistrust is all exquisitely, agonizingly believable. Navigating the complexities of religious, cultural and familial expectation in the 21st Century is hard enough without bearing the weight of societal expectation too.