Tweet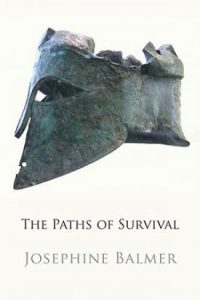 The Paths of Survival, Josephine Balmer's third collection of poetry, is a captivating read. Balmer has used her background in translation and ancient history to create a series of addictive poetic narratives exploring Aeschylus' infamous Greek tragedy, Myrmidons. I must admit, prior to reading this collection, I had never heard of the playwright Aeschylus or his controversial play, but I found myself consumed.
Beginning in present day Oxford and travelling back nearly 2,500 years to ancient Greece, we are taken on a journey. The further we fall into history the murkier things become. Balmer gives a voice to the countless people involved in the discovery, preservation, destruction and creation of the Myrmidons text throughout its existence. Their tales are told through poetic monologues which shed light on the life and fragility of the written word. The poetry itself is stripped back; the language used does not change over time, with Balmer remaining in modern English. This "plain" speech makes for quick reading, unobstructed by unfamiliar syntax or vocabulary. By maintaining a unified voice throughout the collection, Balmer has made this book utterly absorbing. I devoured the entire thing in one sitting.
As well as a series of historical backdrops, The Paths of Survival contains a tangible cultural commentary. The collection goes on to explore ideas of authorship and collective consciousness. Poems such as "Blot" and "Sarpedon's Version" illustrate how those entrusted to scribe Aeschylus' play often altered the original text,
I still believe there is time to make my mark.
I slip in lines, for myself, for Diomedes,
without shame now, our passion declared.
Although fictitious, Balmer has based her poetry in fact. There are questions of how reliable the written word can be after decade upon decade of translation, transcription and decay, and of the importance of its survival despite such deterioration and distortion. Why is it so vital to preserve our texts? These poems show that protecting text was held above honour, above glory, above gold – even above human life. Such ideas are most poignantly expressed in "The Librarian's Power",
We were asked why we struggled
to save books while all around us
so many of our citizens were lost.
We could only say that, if not flesh,
here were dividing cells, bare blocks
of collective memory. Conscience.
This poem presents writing as "collective memory", making the loss of a text and its content a kind of cultural lapse: society loses a piece of knowledge; we all lose a truth.
Many great written works have been lost to time, but Balmer chose Myrmidons. This tragic play of a doomed love between the hero Achilles and his fellow warrior Patroclus is a controversial tale. Homophobia has not, of course, gone away and several poems within this collection address the stigma and dangers that homosexual men have faced throughout history. "The Professor's Prize" and "The Student's Find" both deal with such matters. The latter features a man escaping prejudice, while the former is narrated by a female speaker who is haunted by the memory of seeing that man hanged:
And with a hero's courage to defy,
to speak up for his faith, for who
and what he was, the men he loved:
time now to protest, to dissent…
The Paths of Survival gives insight into a literary and cultural mystery, the result of which is an engrossing exploration back in history. Perhaps if Myrmidons had survived in our collective memory, society would have evolved differently. If Aeschylus' tragedy was never lost to the world, then perhaps neither would be the many men persecuted for their love. Despite its ancient roots, this collection holds important considerations for our own society. Balmer's work leaves a lasting impression; her words is still lodged in my mind: "Speak out. Oppose. Dissent".