The Abandoned Settlements (SHORTLISTED, 2017 T S ELIOT POETRY PRIZE)
Tweet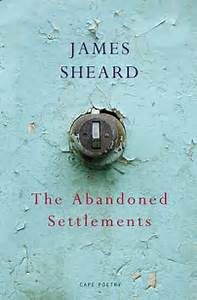 The very act of opening The Abandoned Settlements is pleasurable. With its tactile, foldback cover and ink-blue end papers, as an object, this book is beautiful. The cover photograph – an aged light switch on a wall of peeling turquoise paint – foreshadows the textures and layers within the poems themselves.
The first poem, "Line Break", is short and might well be an epigram:
We're all pilgrims. We're all
more or less aware of that.
"Line Break" contrasts the definite with the uncertain and it's the territory of the uncertain, the "more or less", that Sheard explores in this collection. These poems focus on the lingering traces of those immutable facts of human existence – love, desire and loss. Reading Sheard's poetry feels like watching a succession of still frames on a projector screen, bleaching white then burning in the heat of the lamp. The final line of the title poem, "The Abandoned Settlements" summarises the poet's primary preoccupation neatly: "For love exists, and then is ruined, and then persists."
The poems often begin in a conversational manner, as in the first line of the title poem "Think of it like this", but all too quickly the reader finds herself in deeply personal territory which, while not exactly uncomfortable, nevertheless evokes a sensation of trespass. These lines from "The Ghost in Your Burning Building" make the point well enough:
I know that beneath your bed
are the coils of dust
and the oxblood suitcase.
The repetition of "I know" in subsequent stanzas creates an uneasy feeling of voyeurism as we ride pillion through Sheard's confessions of desire –
I know the way that you would sit,
like that, half-naked upon your bed.

I know your skin.
I know your habits[.]
Sheard's poetry defies categorisation in respect of form, because its forms are so diverse. "On Reading" is the longest poem in the collection having three chapters, individually calibrated. Non-rhyming couplets in poems like "White Roses" and "Room" read like free verse, whilst whimsical short poems like "Cinema" feel like follies in a Victorian garden.
"Shadow Self" has a tighter half-rhyme structure, every line physically shadowing or half-mirroring the previous and subsequent lines, thus:
He walks here still,
your shadow self,
He's got your back
and the boots you left.
He's got your gait,
but stole your health.
He walks here still,
your shadow self.
"Scent" reads like the softly unfurling ribbon of memories it evokes, then ends with a sharp volley of consonant sounds and irreconcilable opposites, "open" and "closed" –
[…] It is
A casket, split open
and then
closed to me
again.
Sheard reveals and shares his emotional depths with candour. In "Signals", "We seemed to fear that talking might violate/our fertile isolations" and yet, "In Note For You" we see the poet's playful side:
Yes, there's another woman
on the next page –
you won't like her at all.
While many of Sheard's "Abandoned Settlements" are emotional fragments tied to sensual memory, setting is an equally important component in many of the poems. In "Landings" the blend of setting and emotion is powerful:
[…] Yes,
we wanted a land where we might fall together,
then fail to wake – or, at least, to sleep beyond

the nag of morning, dragging us to its terraces
and its coffee and tobacco, taken slow and strong[…]
The Abandoned Settlements is an intensely personal collection with universal appeal. We are all touched by remnants of the past, the fleeting memory that yanks us sharply backwards and stirs the dust of an ancient emotion. In "Wingbeats" Sheard tells us,
I have often told myself to keep them strong,
the wingbeats of my telling. Make them move

the air above the lost places […]
Pick up The Abandoned Settlements and be prepared for Sheard's wingbeats to synchronise with your own heartbeat, lifting the air above your own lost places.