The Radio (SHORTLISTED, 2017 T S ELIOT POETRY PRIZE)
Tweet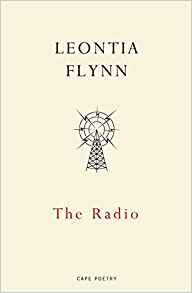 According to the cover in this, Leontia Flynn's fourth collection, the poet explores and "resolves the concerns and forms" raised in earlier work, suggesting that the central sequence considers "the constructed (my italics) nature of childhood". This it does, but elsewhere too there is a pervasive and chafing sense of the constrictions associated with childhood and its legacy, be this in very early or adolescent memories, in imagined scenarios of her mother's growing up during the Troubles, of the recent pain of losing a father, or in turn her own experience of being a small child's parent. Sometimes blisteringly honest, but contained and restrained, these poems are rendered hugely powerful by the poet's sharp ability to harness form.
and through its aperture, the outside world
comes streaming, like a magic lantern show,
into our bewildered solitude.
In three parts, The Radio opens with "The Child, The Family", moves to "…And the Outside World", closing on a series of dialogues. Two poems in the first section carry the book's title, clam shelling the highly typographically-satisfying concrete poem "Listening to My Mother Listen to the Radio".  Rightly, this trio of poems is already embedded in the collection. Both in themselves and in their sequencing they manage to convey domesticity and distance, intimacy and intrusion, paradoxes that are are present throughout. The opening poems offer a moving account of Flynn's father's death from Alzheimer's; Dylan Thomas-like, she takes the driving formal inevitability of the villanelle to his final hours. In a collection riddled with intertextuality, the poet makes clever use of snapping line breaks and subtle spacing to find her parent's earlier stuttering awkwardness at the outing of "good Jesuit" Gerard Manley Hopkins. For all her ability with tight form, Flynn is able to relax into a deceptively light, conversational tone too, "I should probably tell you more about my mother:", and wit underscores the sadness; consider her brilliant "and all that doom,/cod as their umlaut…" written of those Brontës.
The very real autobiographical angst here – and many of these poems are sad, some furious – might lead one to think that the poet lacks a very funny side but "Ode to Moy Park" scintillates in satirical wickedness, with more than a shade of Wendy Cope. Those already lucky enough to have encountered the Latin poet may be less than surprised by Flynn's robustly scurrilous three poems "after Catullus", but all will be alive to the still too-relevant anger:
                                […] I also cooked the books
      for a boss – who then proceeded to bend me down
      and slowly, and systematically, fuck me over,
      while being, simultaneously in turn,
      yes, thoroughly shafted by his manager…
This is a remarkable collection – complex, wide-ranging thematically and structurally, managing the confessional, the universal, the contemporary and even the nostalgic. Flynn has a bold way with cliché and aphorism which I greatly enjoy. Especially in those final "Dialogues", there are  questions asked of the now and of the future…advancement and technology's intrusion unsettling, seeming ultimately irresolvable. Such is the reach and density of The Radio that in this word count it is difficult to give the scope of how these poems run from "Belfast, whose whiff of old atrocity/still hung like sulphur low over its sky", via "A room that smelled of Oxfam and old smoke" to evoke "early and unscripted adulthood" with its needful shackle-cutting, to express the difficult freedoms gained, whilst also encompassing illness, bereavement and international politics. By name and by nature The Radio is an intimate voice in your ear, allusive but not illusive, freighted with the universe to deliver to your kitchen sink.
When poetry collections of this length show such ambition, sometimes I crave more space …perhaps one collection might be two or even three. The Radio however, justifies the poet's intent "trembling on the tensed webs of our minds"; every poem crackles.  Read them rather than my review. I anticipate many illuminating returns.