Magnus Jackson: Photographer
Tweet
"The variety of work a photographer, who devotes his time to subjects outside the studio, is called upon to do […] is what no one would believe."
So said Magnus Jackson in a communication to the Dundee and East of Scotland Photographic Association in 1881. This new exhibition at Perth Museum, of reproductions of his glass plate negatives, certainly bears witness to the wide range of subjects he tackled over a long and illustrious photographic career. From an interior image of Taymouth Castle to the interior of a slaughterhouse, from a ship in Perth harbour to a formal portrait of workers preparing for the agricultural show on South Inch, Jackson's contribution to the pictorial history of Perthshire is incontestable.
The exhibition consists of ten digitally scanned glass plate negatives mounted on large lightboxes around the room, and a brief history of earlier photographic processes with examples of Daguerreotypes and a calotype of Perthshire artist, Thomas Duncan made by David Octavius Hill. There is an audio-visual exhibit – a projected silhouette of Magnus Jackson coating his plates and talking about the not inconsiderable challenges of wet collodion photography. Finally, there is a small display of work by contemporary artist photographers who have revived the wet collodion process.
With a large collection of Jackson's work in its archives, why has Perth Museum chosen to exhibit negatives rather than prints? I spoke to the exhibition curator, Paul Adair, and he told me that that he's attracted to negatives as objects in themselves, and as historical artefacts. He has scanned Jackson's images before to produce prints, but for this exhibition he scanned the plates right to the edges of the glass to show viewers the irregular margins where chemicals have pooled or shrunk away. It's an approach which helps to highlight the complex physical process behind creating the images.
The wet collodion process involved Jackson taking not only his camera, but also a heavy mobile darkroom on location, coating a glass plate (often as large as 12" x 10"), fitting the plate into the camera, making the exposure then developing and rinsing the plate on-site before securing it in a zinc box to 'fix' later on. This had to happen within a ten-minute time frame and so required meticulous preparation and equipment that, in Jackson's words, needed to be in 'first-rate working order.' The audio-visual exhibit works particularly well in the section devoted to showing how plates were coated with chemicals, and lively anecdotes about the difficulties of photographing show cattle and horses make for entertaining listening.
Seeing negatives – blacks and whites transposed – creates a surreal viewing experience. The image of the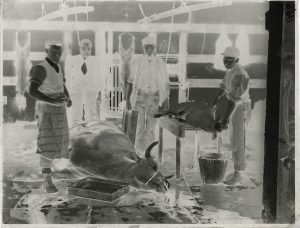 slaughterhouse is particularly arresting. With interior light levels low, a longer exposure would have been required than for outdoor photography, so we see movement as 'ghosting' around the posed figures of the slaughter men which contrasts starkly with the clarity of the static objects; the butcher's block, the blood bucket and the carcase of the cow lying on the ground, its wide, black eye transposed to eerie, accusing white.
The contemporary collodion photographers' work complements the Jackson exhibition well because the images on display are positive images. There are portraits, some imaginatively framed nudes, and landscapes. Each print captures something beautiful and literally unique.
For me, it's the aberrations – the light flares, streaking and imprecise edges which nudge these modern images into the genre of art. Davie Hunt, one of the contemporary collodion photographers puts it perfectly.
Working with the wet plate takes us into a world where the image can have a life and spirit of its own, a world where time and thought dominate over technology, a world that allows the subject to be truly explored.
For lovers of both photography and history, this exhibition offers a unique perspective.