Tweet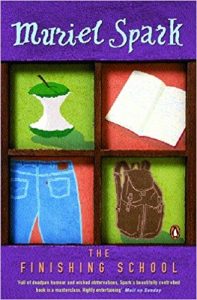 In her last published novel, The Finishing School, Muriel Spark throws open the doors of College Sunrise, a "mobile" finishing school run by aspiring novelist Rowland Mahler and his wife Nina Parker, near Lausanne in Switzerland. Alongside Nina's comme il faut etiquette tuition, the young men and women are taught a number of artistic subjects by Rowland, including creative writing. The narrative centres around Rowland's crippling literary envy of seventeen-year-old star pupil, Chris Wiley, who is making blistering progress with his historical novel while Rowland himself is lamentably blocked.
The Finishing School is not deemed to be one of Spark's best novels, yet, as a newcomer to the author's work, I found it entertaining and enjoyable. It prickles with sharp observation and – forgive me – "spark"–ling wit, as in the scene where Rowland is reflecting on a piece of writing by his pupil, Princess Tilly. Her piece is an account of the massacre of the Nepalese royal family into which she has confidently inserted missing details as required: "In fact, there had been no dancing at the Plaza, and the youth in question was nowhere near Nepal when the King and Queen were slaughtered […] but Tilly was already launching herself excellently on her future journalistic career."
In another amusing scene, Nina is teaching her pupils about hypocrisy:
'You must learn, first of all […] the arts of hypocrisy. […] Let the client believe it means all the world to you that they have arrived in your hotel, your business, your café or whatever.'

'In the same way as you welcome us to the school?' said Tilly.

'A good observation. You're perfectly right.'
Spark's writing is irreverent, and The Finishing School is full of her trademark "waspishness". There are many laugh-out-loud moments, but those moments occur around the edges of the driving narrative which follows Rowland's descent into the hellish clutches of jealousy.  As a convert to Roman Catholicism, Spark believed that jealousy was a sin – an "affliction of the spirit"- and Rowland is so afflicted that even the grief over his father's death is a welcome respite from the daily grind of his jealous misery. As the target of Rowland's jealousy, Chris has cause to ponder its nature:
Jealousy is to say […] I hate you because you have got what I have not got and desire. I want to be me, myself, but in your position, with your opportunities, your fascination, your looks, your abilities, your spiritual good.
If Rowland's jealousy makes his character feel two-dimensional at times, surely that is what jealousy does. It renders characters into flat-pack personalities – you only have to think of how the mighty Othello is diminished at the hands of Iago to understand its effect. In an echo of that Shakespearean relationship, a dark symbiosis evolves between Chris and Rowland as Chris comes to realise that to finish his novel, he needs Rowland's jealousy: "I need whatever it is you [Rowland] radiate."
As the novel draws to an end, the question remains: is Chris's literary talent worthy of Rowland's jealousy? Spark has great fun with the denouement, and her caustic observations about the relationship between talent and commercial success are completely on point in a world where celebrity and 'USP' frequently overshadow true value.
If I have a criticism, it would be that the last three chapters of the novel feel like a whimper after the big bang, devoted as they are to wrapping up the stories of the various characters, but it's a minor flaw. In the New York Times Sunday Book Review (2004), Thomas Mallon wrote that Spark's novels 'are so full of arbitrary quirks that they ought to be terrible, and yet they somehow never are.' The Finishing School is not terrible by any means. Quirky, certainly. Enjoyable – most definitely.