THE HOTHOUSE BY THE EAST RIVER
Tweet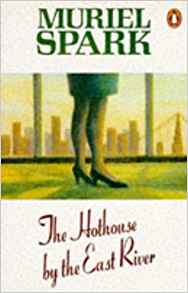 "Shadowed by her shadow she walks across the carpet."
Elsa Hazeltt's shadow casts in the wrong direction. She wears secret codes from the Second World War on the bottoms of the shoes she buys on Madison Avenue. She, or her husband, Paul, or both, may or may not be insane. There is a chance that everyone in this story is dead.
These are some of the feverish realities we face (read: embrace) as readers of Muriel Spark's claustrophobic novel, The Hothouse by the East River. The novel centres around Paul and Elsa Hazlett, a married couple who have settled in 1970s New York City after completing their work as intelligence officers in England during the War. Their fraught marriage boils in an old New York City apartment, where the heating system refuses to be turned off and Elsa is "in company with the Nothing beyond the window, high above the East River."
The story is told in a dreamlike sequence of alternate present-day and flashback scenes: dreamlike because the flashbacks themselves are written in the present tense, without even a page break separating them from "real" time. These range from days before the events of the narrative to recent years, to the couple's distant past of wartime espionage; sometimes all within a single page. In this way, Spark plays puppet-master to the realist mode; each miniature story dances with conviction yet contradicts another, and we are so busy trying to figure out which puppet is a real boy, we forget to look for the literary strings.
Dialogue carries the action as Spark spares us the minutiae of Paul and Elsa's lives; we learn that they were in intelligence together, they have two grown-up children, and Elsa has, inexplicably, a lot of money. But the real story is in the balmy insanity of Paul and Elsa's post-war normality; one can almost catch a whiff of Carson McCullers in the dead apartment air. Exchanges like this saturate the narrative:
'You think of everything, my dear, until you think of something else.' He speaks softly as if she is becoming dangerous, as indeed she is when she speaks like this.

'Well maybe you don't jumble,' she says with suicidal mirth, 'I take it back. Cheer up, I'm going to bed.'
The maniacal banter between Elsa and her husband (and later, a menagerie of wild characters) means that this already short novel moves at a dangerously fast pace. In several instances, the characters talk as if in complete disconnect from one another – yet this discord never reaches the reader, and, in fact, fuels the story by breeding a crazy curiosity to make sense of it all.
The point of this novel's plot, if there is a plot at all, must be mystery. Firstly, the mystery of Elsa: the physics of her ill-moving shadow. Yet as the story unravels (and I do use 'unravels' in a literal sense), we become increasingly intrigued by Paul: his mental health; his post-traumatic deterioration; his heart "battering the sides of the coffin"; and, above all, the question of his death, hovering steadily like a summer fly. A reader who needs answers for closure must not under any circumstances read this book.
With each new (and hilarious – it is Spark) twist, the novel's prose is more spare and candid, whilst the events of the narrative grow more psychedelic and convoluted. From Garven, Elsa's analyst, becoming her butler, to old army buddies turning up impossibly as shop assistants and troupe actors, the novel quickly, yet concisely, spirals from a psychoanalytic, expressionist reading of marital breakdown to a carnivalesque satire of the trappings of modern living and new money in the wake of World War II's explosive tragedy. Part societal critique, part fever-dream, this novel is, like its characters, impossible to define; yet the overarching feeling is the Spark of insanity – blisteringly, disconcertingly hot.