All the Prayers in the House
Tweet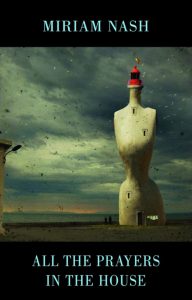 Good poetry, as Robert Crawford said about John Ashbery's word craft, "levitates language" from the page. As I read and re-read Miriam Nash's first book-length collection of poetry, All the Prayers in the House, I am struck with a similar leavening in the composition of the poems as prayers and reading them aloud as "PRAY-ers". The collection opens with "Vesper", a time traditionally reserved for evensong, and ends with "Dear Mother Father God", a prayer of desperation reminiscent, in wit and ire, of George Herbert's "The Collar". With a "ravening" mind and plenty of "Prayers" in-between, procured from an upbringing on the Hebridean Island of Erraid, one gets a strong sense of the poet offering a new spin on the old business of God, religion and poetics.
Carrying the poet's voice, seductively, "Vesper" is short and incantatory with an iambic beat with stresses landing on the "s" of "curses, promises, demands"; the sibilant sounds emphasising the quietude of the occasion, prepare us for what is to come. What follows are poems wrought with sounds, rhythms and stark images of these early hinterland experiences, often also seguing into themes of love, loss and frustration. For instance, "To Tend a Light" is a tribute to the men who tended the Stevenson Lighthouses and their work-related anxieties, captured by Nash's unnerving placing of a full stop in the middle of the line, as in "to wreck. You dread". Meanwhile, the demise of lighthouse practices is revealed through imagery:
It's getting dark again,


a closer dark


that's harder to shake off [.]



Rhythm is everything to a poet and in "The Mother Tells Her Daughter of a Storm", Nash uses a near-fixed metrical pattern with occasional trimeter – "reasoning" and "promising"- to produce the tension of women on the edge of a storm, offering up their children as "human prayers" in return for their seafaring husbands. Needless to say, women are always at the forefront of her poems.
In contrast, there is the humour of "The Last Fish" expressive of the poet's affinity with the sea:
                    I had sensed my body


stretching with the tide, my limbs


teased out like nets across the calm [.]



With sound effects aplenty, the hypnotic flow of the "s" sounds alternating with the tautening effect of the "t" sounds create a vivid image of the poet caught like a fish in a conceit of their own making.
Nash's preoccupation with Robert Louis Stevenson manifests itself in three poems dedicated to his memory. In two of the three, her adroit use of couplets act as a sound-mirror to her vociferous "child-mind". What issues from "Letter from R.L.S." is no less entrancing or poignant with the stillness and the finality of the moment seized in "All is at a standstill; books closed, paper put aside". "Ghazal for R.L.S." completes the trio and in it Nash uses the repetition of "islands" to affirm their temporal bond but also as a counterpoint to that bond. This emotional complexity is evidenced in the final couplet:
Where are we from then, Robert/Tusitala?
the breeze barfs, bringing up ghost islands.
"Song of the Mainland" is a jovial ballad, mindful in form and sound of Byron's poem "So We'll Go No More a Roving", which Nash subverts to weave a different narrative about why a return to island living is an unlikely proposition "Where the wind stays off the whiskey/ And the bread is factory-rising".
Yet, her poems aren't confined to the edges of her Scottish imagination. In "Ladies of Valhalla", we rejoice in female prisoners on the edge of American society whom she humanises with "Cherry Chutney, Bouncer It's Me! Bastille-My-Heart, My Pointe Exactly" – all names of nail polish!
There is a wonderful synergy in this collection that glides across a vast spectrum of issues and sets them all "to glint". More poetry of this luminous kind, please!