The Magic of What's There
Tweet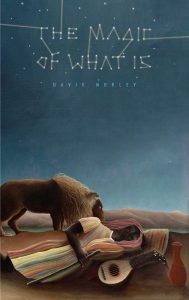 Has David Morley really "cast off the worlds of myth and magical fable" as the back blurb of this collection suggests? His shape-shifting, shift-shaping Romani folk tales are what has made his work so wonderfully distinctive so far. He won the 2015 Ted Hughes Award for The Invisible Gift, his Selected Poems. Is this collection a new departure? A new arrival? At the start there is a stutter, as a fledging dunnock lands on Morley's keyboard and flounders around the Q ("I Quam a Quunnock"). This introduces a section, "The Discovery", which consists of delightfully playful pieces. There is a spectacular tribute to Dr Seuss ("Dr Seuss Passes Through the Gates of Heaven").
Later in the collection, there is another stutter, this time from the young David himself ("Lesson Three")
Rippety-trip-rippety-trip. I fell.I fell over my tongue. Or my tongue tripped

over me.
This is one of the "fiercely personal" poems that the back cover mentions. There is a sense of the poet coming to terms with the pain of his upbringing and a childhood lived in fear. There is also a feeling that this poem recounts events which are central to the development of Morley's self as a poet – firstly there was a withdrawal into silence, then a stutter, then the words "shot out". The stutter reappears in a section titled "Forgiveness" and it is given to a leaf –
behind  every  great  tree  is                        a  great  leaf stutters  leaf


roots  rant  in  the  dark:                           

  the death of trees is a silhouette
and later in the same poem, "leaf:   teach  me  to  breathe  by  holding  to  the  sun".
Morley is a master of the integrity of wholes and parts. Agency is shared amongst many things, for example – "Spring detonates on time thanks to wood anemones." ("The Grace of JCBs"). His use of language can be refreshingly direct and simple as in poems about his family. At other times, it is extraordinary, for example, "The Teardrop Stoop", a beautiful sequence of sonnets (in couplets) invoking a falcon. There is something of Gerard Manley Hopkins in the stress and ease of words:
...She binds to my wrist, warbling,

bobbing before casting off, sprung, free-flying
stamps stairs of air, punching breeze, flinging

thumped thermals; vectors, vortices whistling [.]
The collection is usefully divided into eight sections. There is a pleasing sense of progression and of alternating wide or narrow focus. As ever, Morley's world is closely aligned with the natural environment – that tussle for survival. The seasonal feel of this collection is winter – with a touch of autumn and spring on either side. Form and content are always aligned and the visual shapes of the poems are often crucial, for example, "Bipolarity, an Eroded Pantoum" with the effect of a stream or river running down the centre. There are poems which hold missing leaves ("Forgiveness"), and there are other intriguing shapes on the pages.
The poetry of one section, "Sycamore Bark" seems to tear to the heart of this collection. Morley has composed a sonnet sequence by extrapolating from letters exchanged between Paul Celan and Nelly Sachs – both German poets in exile, both having experienced great loss. Sachs writes expressing her longing for "the gold" of "the mystery" then
Celan to Sachs: 'poems, and yours especially,


are even better pieces of sycamore bark'.
The epigraph Morley chooses for this poem sequence, from one of Sachs' letters, refers to the "incurable wound of life". Here is one understanding of poetry – the great outpouring that arises from the wound of the world.
This is a fabulous collection of poems where Morley finds a way of expressing "impossibility impossibly possible" ("Sycamore Bark") in ways that are full of verb and verve – a shooting out of living words.