THE PRIME OF MISS JEAN BRODIE
Tweet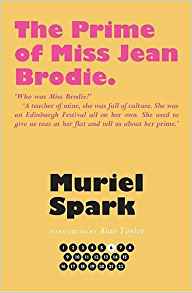 As the centenary of Dame Muriel Spark's birth approaches, we begin to revisit the wonderful work of one of Scotland's finest writers.  Muriel Spark 100, a year-long literary programme of events, will be taking place throughout the UK, in celebration of Spark's life and revered writing.  To mark the occasion, Polygon recently republished her twenty-two novels in hardback editions, including special introductions from popular writers and critics.
Despite an impressive bibliography of novels and other works, including poetry, short stories and literary criticism, Spark is still best known for her sixth novel, The Prime of Miss Jean Brodie, first published in 1961.  In the Polygon edition, author and long-term friend, Alan Taylor, talks of Spark's natural novel writing skills, noting that the book is "at once traditional and experimental . . . It is the dialogue in particular that makes it sing."
Set in an Edinburgh school in the 1930s, the novel follows a group of impressionable twelve-year-old girls, led by the eccentric Miss Brodie, who believes that "these years are still the years of my prime."  Monica, Rose, Eunice, Sandy, Mary and Jenny form the illustrious 'Brodie set' and the selected few exposed to Miss Brodie's unorthodox teaching methods.
The novel shifts between past and present, allowing us to see Miss Brodie through her students' eyes, both as children and adults. Although a free-spirited and sharp-witted character, the reader soon realises that Miss Brodie denies the girls a balanced and conventional education, in order to influence them towards her own beliefs and interests: "'I am putting old heads on your young shoulders,' Miss Brodie had told them at the time, 'and all my pupils are the crème de la crème.'"
Miss Brodie believes that she is offering the girls a far more valuable education than they would receive through conventional teaching:
The word "education" comes from the root e from ex, out, and duco, I lead. It means a leading out. To me education is a leading out of what is already there in the pupil's soul. To Miss Mackay it is a putting in of something that is not there, and that is not what I call education, I call it intrusion . . .  .
She is insistent that her beliefs are truth and finds a misplaced sense of purpose and authority in her control of the girls: "Give me a girl at an impressionable age, and she is mine for life."
Identity is a recurring theme throughout the novel, with each girl 'famous' for something: "Monica was a prefect, famous mostly for mathematics . . . Rose Stanley was famous for sex . . . Eunice Gardiner, small, neat and famous for her spritely gymnastics." Miss Brodie's own identity is also questioned due to her extreme desire to influence the lives of her girls: "Sandy looked back at her companions and understood them as a body with Miss Brodie for the head."
At only 128 pages, the novel feels reminiscent of a short story due to its intense focus on characterisation. It is also interesting to note in Taylor's introduction that Miss Brodie's character is loosely inspired by one of Spark's own teachers.  In her autobiography, Spark said: "No, Miss Kay was not literally Miss Brodie, but I think Miss Kay had it in her, unrealised, to be the character I invented."  With its effortless fusions of humour and tragedy, love and betrayal, wit and sadness, it is easy to see why The Prime of Miss Jean Brodie remains a much-loved classic after so many years.