Tweet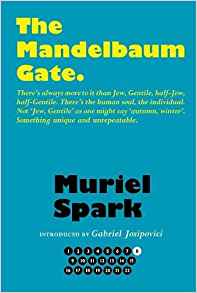 There is nothing lukewarm about Muriel Spark. In her writing she displays all the extravagance of an eccentric mind. Her eighth novel is set in Jerusalem in 1961, when the Mandelbaum Gate segregated Jerusalem into Jordan and Israel. As Gabriel Josipovici explains in his fine introduction to the 2018 Birlinn edition, this novel is Spark's process of self-discovery.
The central character, Barbara Vaughan, who is on a dual-purpose pilgrimage in Jerusalem, finds herself unable to travel freely into Jordan because she is half-Jewish. Near the start of the novel, in a passionate outburst towards the mild-mannered Freddy Hamilton, she quotes from the book of Revelations in the Bible: "Being what thou art, lukewarm, neither cold nor hot, thou wilt make me vomit thee out of my mouth". This quotation is taken up by Freddy when he in turn rails against his conservative friends in support of Barbara's travel plans. This novel itself is a convoluted outburst constructed around the theme of moderation between twin extremes. Does the gate represent a half-way meeting place of safety? Or is a dangerous site of conflict because of its neutral ambiguity?
Predictions, events and aftermaths are intermingled in this story strangely told.  Josipovici's introduction to the Polygon edition draws attention to Spark's use of prolepsis as a "procedure characteristic of Spark's beloved Border Ballads". The many characters are propelled by absurd propositions and irresistible dilemmas into situations which verge on the farcical. Spark's writing is funny in all senses of the word.  Half-Jewish Roman Catholic herself, Spark's spinsterish protagonist Barbara  secretly has  fun: "…what right have they to take me at my face value? Every spinster should be assumed guilty before she is proved innocent, it is only common civility".
There is a poetic sensibility at work behind the scenes of this novel. Nothing is quite as it seems. Everything is symbolic. Lukewarm wine is served. English wildflowers grow in Palestine. Novice priests come to a fist-fight in Bethlehem over who should clean a particular stained glass window. A visiting presiding priest breaks off from the recitation of the Latin creed to denounce one of the Holy Sites: "I forgot to mention the Milk Grotto, near Bethlehem. Don't go near the Milk Grotto. It's a pure fake."
The plot is an orchestration involving various histories, religions, love affairs and loyalties:
I am who I am.

Yes, but who am I?
asks Barbara with her analytical mind. She values the gift of faith, yet on visiting some of the holy sites feels "abrupt indifference".
Spark spent two months in Israel researching for The Mandelbaum Gate. The novel draws on the historical fact of the Adolf Eichmann trial, which took place Jerusalem from 1961 to 1962. Eichmann, a Nazi SS lieutenant colonel, had been in charge of the transportation for deporting Jews. Spark attended the trial as a reporter for The Observer and she places Barbara at the scene. Once again, she invokes the apocalyptic lukewarm motif – "it had been generally agreed that court proceedings had entered a boring phase…Barbara was not prepared to be taken by the certainty, immediately irresistible, that this dull phase was in reality the desperate heart of the trial". Eichmann showed no remorse. His defence had been that he was simply doing his job, serving the system, working at Bureau IV-B-4, "a kind of through station, transit station".
Did Spark become a novelist, as Josipovici suggests, for the same reason that she converted to Catholicism – because writing fiction depends on trusting in time and events? If so, the depiction of the facts within the fiction, and the fiction within the facts in The Mandelbaum Gate must have represented something of a burden. Yet, at a final reckoning, the writing is a strangely joyous balancing act between irreverence and faith. To articulate extremes with probing, acerbic humour is the unmistakable legacy of Muriel Spark.