Tweet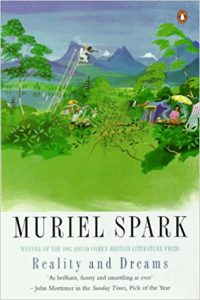 "What we are doing," Tom told his crew, "is real and not real.  We are living in a world where dreams are reality and reality is dreams. In our world everything starts from a dream."
This quote, from the final chapter of Muriel Spark's Dreams and Reality, encapsulates the book's title, and entices the reader with expectations of the surreal. However, the reality of this is somewhat more conventional, as the novel unfolds the narrative orbits around the dramas of a dysfunctional high-society family.
Film director protagonist, Tom Richards, has literally fallen from grace at the beginning of the story; the novel opens on his hospital bed after a dramatic on-set accident involving him falling from a crane and suffering a broken hip, twelve broken ribs and a severely broken ego. Richards' family members revolve around his sick bed, each appearing to be either anesthetising or aggravating the bitterness caused by the inconvenience of his accident, which subsequently puts both his current film, and his life on hold.  True to his cantankerous nature, after his dramatic fall, Richards does everything within his power to avoid letting his film, Hamburger Girl, fall into the wrong hands; he is back in the director's chair before anyone has had time to shout "cut".
But Richards is quickly reminded that often, it is the reality of life, which can pose the biggest threat to creative productivity. His entourage of dysfunctional family members, each of whom are greedy for power, money and success, present their own trials and inconveniences, such as redundancy, irritable facial expressions and ulterior motives.  Spark crafts a witty tale which is reminiscent of Fawlty Towers and Carry On humour; infidelity and selfishness are overruled by this collection of unlikeable but interesting characters who are trying to outsmart each other, but tied by a relentless cat's cradle of loyalties. As the story progresses, it's apparent that Tom's dreams are far more important to him than his realities.
Mirroring Tom's films, the novel itself is cast around a succession of leading ladies.  There is Marigold, Tom's daughter, who neither he nor his wife are particularly fond of, largely because of her ungainly nature:
Hideous Marigold.  Always negative Marigold. Her parents had searched through the past, consulted psychiatrists, took every moment to bits. In no way could she be explained.
There is Tom's wife, millionaire Claire, who keeps the family together despite having numerous lovers; Tom's daughter "beautiful Cora,", from a previous marriage, who he admires so much that the reader could be fooled into assuming he is in love with her; and Tom's fancy ladies, Rosie and Jeanne, who are falling over one another other to be centre of attention – both on and off set.
Spark grips the reader in the opening chapters with an intriguing writing style that requires the reader to work hard at filling in the blanks, we are introduced to faces, names and characters from Tom's point of view and it is up to us to decide whether or not they are to be trusted:
"Don't wear yourself out," she said, "with too much conversation.  I bought you some grapes." She said "bought"not "brought.".  She dumped a plastic bag on the side table. "This is a wonderful clinic," she said. "I suppose it costs a fortune.  Of course nothing should be spared in a case like yours." You must not imagine Marigold was particularly deprived.
This challenge continues as the story unfolds, however it becomes a little disappointing as the novel turns more and more to slapstick comedy rather than the surrealism that the title entices us with. It is entertaining and offers casual enjoyment, but sits very much in the shadows of Spark's best sellers, leaving the reader with the harsh reality of a novel that's light-years away from the dream of what it might have been.