Tweet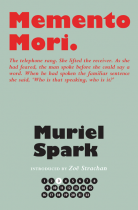 "Being over seventy is like being engaged in a war.  All our friends are going or gone and we survive amongst the dead and dying as on a battlefield."
Memento Mori is Muriel Spark's third novel and seems, at first, to be a simple mystery novel with a "whodunnit" to be solved. But Spark is terrific at moving the plot from under your feet so you are never sure where you will be taken for the duration of the novel. In fact, this novel deals with ageing and the inevitability of death, trust and betrayal, several affairs and blackmail.  The novel is not a depressing and morbid read, but is instead an entertaining and captivating one.
"The telephone rang.  She lifted the receiver.  As she had feared, the man spoke before she could say a word." The eclectic group of elderly characters who reside in London all receive telephone calls reminding them that they must die. They all hear a different voice when they pick up the receiver. Most of the time it is a male voice, but sometimes it is female; the voice is sometimes young and sometimes old, and the tone variously stern or comforting. But the message is always the same.
This novel seems to reflect on the fact that most of us will grow old, and we will all die. Its  characters all come to reflect on their lives and their inevitable deaths in varying ways, through religion or through confessing to past sins. As the novel switches focus from character to character we are given an insight into their lives, their history and the way they all come to terms with their inescapable deaths.
A few of the characters believe the voice on the phone is death himself, but Spark leaves this idea ambiguous.  The reader never discovers the identity of the voice as such and we are left to make our own decision.  Spark converted to Catholicism around five years before this novel was published, and one might say that she was making a comment on religion or the religious mindset that some of the characters (and society) possessed at the time.
To me, this novel reads as a cruel and pessimistic portrayal of the elderly, but it is also an enjoyable read, with a lot of sharp, cutting humour in it. This seems to be a characteristic of Spark's writing style, an acerbic and witty way with words that is both vicious yet amusing. As Zoe Strachan remarks in her introduction,
To say Spark is an incisive writer is true, but her technique is perhaps more akin to selecting a specimen with a pair of tweezers and splaying it on a petri dish for examination under a microscope. All flaws are magnified, any moral core identified or found wanting.
The ending of this novel is particularly memorable.  By summing up the fate of all the characters in a few paragraphs, reducing them to their ailments and listing their inevitable ends, Spark shows the reader the ending that we all face, the futile nature of our actions during our lives and that eventually we all die, regardless.
In Memento Mori, Spark has created a masterful novel that makes the reader laugh and think at the same time. The introduction by Strachan is both informative and insightful, and allows the reader to fully understand the depth of what Spark has written. I had never read anything by Spark before but after reading this novel, I am looking forward to picking up some of her other works.