The Night I Danced With Maya
Tweet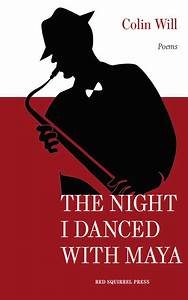 I have one simple expectation of every poetry collection that I've ever read or will read: that each poem will connect with others towards a cohesive whole. You can imagine my hesitation when four poems in I realised that Colin Will's The Night I Danced With Maya failed to meet my criteria. Or did it?
Colin Will has been a successful poet for more than half of his seventy-five years; his experience in both life and writing is evident in this collection. He shuns the obscurity and abstract expressionism adopted by some poets, giving instead a raw and unapologetic insight into many traditional poetic themes such as nature and love as well as some very unexpected ones.
Many of the poems are autobiographical. In "Too Easy" he writes of the joys and miseries of writing itself. In "Plotkin's Cat" he reminisces about the birth of kittens during his childhood. In "Carried Away" he describes the day he scattered his mother's ashes. In a more sobering piece, comically titled "Ball Rolling", he shares his fears of being diagnosed with testicular cancer. Highlights from this poem include a reference to the sperm "best before" date and the hostile personification of cancer itself,
who knows if Charlie's lurking
in the prostates walnut.
The titular poem relates to the night when Colin Will met Ukrainian film maker Maya Deren in a New York bar. He calls their dance a "conversation of touch". He describes love at first sight, longing for another dance with Maya all the while knowing that this was unlikely to happen. The poem ends regretfully:
it didn't, couldn't, last, but I had the sense
of where another night, on a different
dance floor, might take us.
Some of the poems are short in length but just long enough to convey thoughtful meaning. "Duet", the shortest poem of the collection, with the lines "Harmonising's what we do; /you with the high part", is a love poem. In the closing two lines, "me lower and less certain /of the chord we're aiming for", Will is able to switch from the earlier sweet and comfortable tone to one of uncertainty and sadness. Another short poem, "There are Warnings of Gales", is composed of a single stanza. It begins as a poem about stormy weather before evoking a cynical mood and hinting at the bad days that come with everyday life. Yet, it leaves the reader with a positive message: "know how to cope with all the days, /however wild the wind".
Younger readers might think that Will's mature years would suggest his interests are restricted to those of the older generation, but they would be wrong. "Unfollowing", a poem written entirely in couplets, deals with the trials and tribulations of social media. The alliteration he uses in the first few lines – "follow friends, follow family, /then folk followed me" – conveys his exasperation. If this doesn't convince you that the poet is well aware of what is current and topical then his reference to pop star Miley Cyrus in the poem "Deconstruction" will change your mind.
The single common denominator that underpins the relationship between these different poems is the poet himself. The poems feel unique, so surprising and unashamedly personal that it sometimes feels like reading an autobiography in lyric form. Forget rhymes, forget obvious thematic cohesion, The Night I Danced With Maya is poetry that is worth reading.