Tweet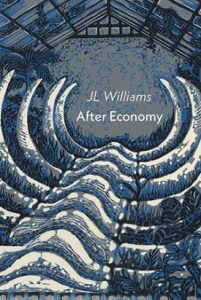 After Economy is JL Williams' third slim volume of poetry; it is a haunting collection that explores the world's impending doom. Progressively, it reads like a human timeline, from the beginning when man first discovered fire to an ending with man becoming leftover cinders. The apocalyptic theme is found throughout the collection, addressing a question that has obvious topical and urgent currency. The poet might also be alluding to the Four Horsemen of the Apocalypse: Death, War, Famine and Pestilence. Humanity must feel the wrath of the four events until they are met with something different. A new world perhaps?
The first poem in the collection is also named "After Economy" and asks, will the current political and economic climate lead humanity down a path of swirling storms and desolation? Three quatrains and a final couplet make up the poem.  We manipulate nature for our own gain: humanity has relied on the same formula since its inception. The stanza whisks the readers to what could be the Sapporo Snow Festival in Japan, an event where the locals spray water at their trees to create a winter wonderland:
The first rinse takes some time, a glassy sheathing,
the second ices each branch quick and soon
the entire frozen forest glitters and shimmers [.]

Phrases such as "glitters and shimmers" capture its artifice, something unnatural is created by consuming natural elements. "Glitters and shimmers" place readers in a dream-like state. Williams's entrancing phrases suggest that we have become obsessed with our desires. Humanity is unaware of the damage they are inflicting on nature, constantly breaking apart what is already there to put together something new. So what happens "After Economy"? The enlightening extract "from within-each bulb encased in ice" suggests a new Ice age could commence.  Williams creates a harrowing image of the world becoming a "bulb encased in ice". No longer will humans be around to exploit nature. Lights will dim and darkness will ensue/occur.
"Transhuman" also predicts the end of humanity with, "How do I speak, now; with electricity./ How do I speak, now". The only traces of human existence are the nuts and bolts of their creations: a synthetic android who is devoid of human emotion. Humanity's inventions have outlived them. So who caused our demise?  We humans? The poet intimates that, in the future, we will have relied on energy sources to power robots for too long with the result that nature will fade and the "unnatural" and artificial will reign. Could this happen? It might.
Williams, however, finds hope in the darkness when she writes, "A mouth through which the final word / of the world is shining out; light, light" ("After Economy"). Williams has a rare talent for being able to manipulate sound and the repetition of "light" has a soothing tone. She transitions from an apocalyptic vision to less bleak, possibly even a more utopian, one: our planet may not become a place of nothingness.
There is a religious undertone in the title poem of the collection. The repetition of "light" links back to when God exclaimed "Let there be light" in the Book of Genesis. Humanity might recover from their mistakes; the world can return to the sanctuary it once was.
There is hope in "Belief". It's not a conventional poem but one whose presence is essential:  "It breaks so slowly/it is almost like coming together [.]" This poignant piece sums up the collection. There will be a life "After Economy". The world might break apart but this might result in a "coming together" with nature. The world doesn't have to end in Armageddon. The design on the front cover shows a skeleton of a whale decaying. The greenery growing between the bones suggests that life can exist After Economy. This exquisite collection is a protest against humanity's recklessness and for this I applaud you JL Williams.