Tweet
ROUND  1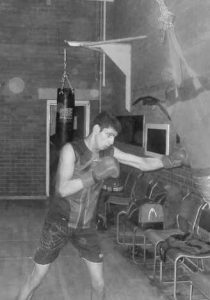 I'm greeted by the acrid stench of sweat, the whirring of blurred skipping ropes spinning. Whips, cracks, and grunts echo; defenceless leather bags hang at the mercy of those that pound at them. From the depths of the hall, voices rise above the clamour, shouting instructions, followed by an artillery of punches drilling into hand mitts.
I skip, stretch and shadow box, going through the motions of a warm-up. I wrap my hands with long strips of black cloth. Each pass makes them tighter and stronger. I flex and feel empowered, armed with a gauntlet. I reach my hands into the depths of the red gloves, pushing them as far as possible. The gloves strap tight and I push my fists together, hearing the leather creak. I close my eyes and take a deep breath.
The story of every boxing match begins far away from the ring. It begins in the miles of roadwork, countless rounds of pad-work and sparring, gruelling strength and conditioning sessions, and strict dieting. Fighters are made in the gym's routine and rituals. Training is physically and mentally strenuous.
By pushing body and mind through arduous workouts, the two become one and adapt. The repetitions of punch combinations bind the fighter's muscle fibres to his unconscious mind – making his actions second nature.
Training, particularly in sparring, is used to simulate the conditions of a fight as closely as possible, an opportunity for the fighter to practise his movement and stage blocking. He rehearses every possible scene that could play out and improvises accordingly. He must adapt to the unexpected drama in the ring at any given moment.
One of the most intelligent boxers of recent times is undefeated American boxer Floyd Mayweather Jr. He is a boxer for the purists, strategically making his way through fights by careful, risk-free planning. The result is perfected pugilism and an embodiment of the hit-and-don't-get-hit ethos. The boxer trains to be in peak physical and mental condition. The sparring and pad-work help him stay sharp – honing his skills, reacting to spilt-second movements. Like driving a car, a fighter must be aware of his surroundings, observe, analyse and react accordingly. He must rely on his body to take the necessary actions: evade a blow or mount his own attack.
Preparation is the key to success in boxing. It ensures that the boxer is fit to compete. But he also finds solace in knowing he has done everything he can to prepare for the battle ahead.
---
ROUND  2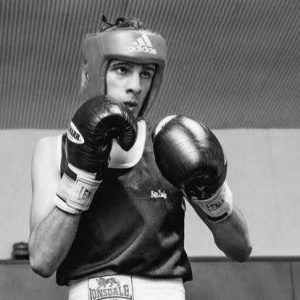 I'm shivering. My dark skin is a wallpaper of goose-bumps and hairs on end. My arms are long and slender, only muscular when tensed. My chest is defined but not impressively thick compared to the others. My legs are long and lean, and my calves, when flexed properly, look big. My shoulders and the top of my arms are the only signs of a boxer's physique, thick from the strain of holding my guard up. My abdomen is not as hard or chiselled as it should be, but at certain angles, shadows dip into the contours suggesting my core has been trained.
'You don't look like a boxer', someone always says.
It's true. Only my knuckles identify me as a fighter; vicious balls of protruding bone, covered by a thin stretching of skin. As we wait to be examined by the doctor, have our weights checked, I compare myself to other fighters around me who look the part more than I do. Some flex, making me and my body look even less like I belong there.
The body is both the temple and the sacrifice of boxing. It is expected to perform in near superhuman ways, working like a machine at great intensity over a long period of time. To swing and club another in such seemingly primitive ways requires stupendous amounts of energy.
In this sport, the body is beautiful and brutal. The hardships of a fight weigh heavily; the sublime becomes grotesque. Bodies are torn, battered and bruised. Eyes swollen shut, noses crushed and shattered, lips burst, and brows gashed.
Blood pours. A part of the fighter stays in the ring forever – in flesh and in memory.
The boxer's body becomes an archive of his pain and struggle. Scars, bruises, lumps and bumps, tell the history of his fights, like memoirs torn and etched into his fragile flesh. And he still refuses to give up.
Boxing is about performance. Boxers are exposed in ways most of us are not accustomed to. They are on display, scrutinised for weakness. We assume a lot about fighters from their outward appearance. From his physique we make judgements on how well a fighter has trained, what his capabilities are. Yet, often this is misleading as in the case of large heavyweight competitors whose bodies are not always sculpted like Adonis.
The boxer counters his nakedness by drawing attention to it, making it part of the show. A chance to boast and bulge, tense and flex. It is the final opportunity to meet and intimidate the opponent before the match – to gain a psychological edge. Then comes the traditional face-off: both boxers stripped to their waists, staring into each other's eyes, masking nerves and fears. In the professional game it has become an event all in itself, full of glamour and drama. For amateurs it is a timid and uneventful affair.
---
ROUND  3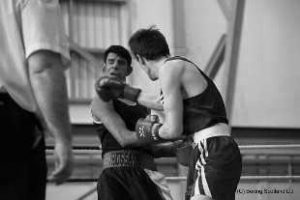 The moment has come. The announcer introduces me to the clamouring crowd. I beat my chest, throw a quick flurry of punches, give a taste of what's to come. I have become who I am supposed to be in this moment. I meet my opponent in the middle as we listen to the referee's instructions. I stare into his eyes looking for a chink in his armour, a failing of façade. He is posing just like me. Is he as scared as I am?
A quick prayer in the corner.
God protect me, give me strength.
The bell clangs and I rush out, cautiously pawing out my lead hand. We both fire out quick, feverish jabs and straights, trying to snare the other into our fist traps.
A left. It collides with my mouth, knocking my head back. I can taste blood. I respond with a left and right. It stops him in his tracks, but only momentarily. He charges forwards, backing me into a corner. I raise my guard, but he finds an opening and lands a thunderous left hook.
For a moment everything is BLACK.
I am staring  at the spinning ceiling, the count in my ear.
FOUR… FIVE…SIX.
Reality floods back and I climb to my feet.
Perhaps there is underlying masochism at the core of boxing. Why do so many participate in a sport where the primary objective is to beat the hell out of another person? Where the ultimate goal is to render another, unconscious?
These are heady, intoxicating feelings: the thrill, the pride, the accomplishment. Boxing captures the essence of overcoming adversity. The only thing that makes one man better than the other is what he does or doesn't do in the ring. The language of boxing, the metaphors it lends itself to, the self-realisation involved, fitness, action, are universal. Colum McCann observes that:
Maybe the appeal of boxing and its own peculiar genius is that it can be used
as a recurring metaphor for just about anything. Boxing is so malleable, certainly
in terms of its language, that it can stand in at a moment's notice. (1)
Bloodied in battle, knocked down countless times, barely able to defend himself, the boxer will fight on. He is a rare breed in need of saving from himself. He is too brave for his own good. It is still fairly uncommon for a boxer to surrender out of his own volition; pride does not permit him to. That decision is usually in the hands of the referee or the corner men. To what end do boxers refuse to give up? At the expense of health and wellbeing? Is it worth risking serious damage for the sake of getting your hand raised in victory? Or to be told you were brave and that no one can question your heart?
No other sport  is as unpredictable and as full of drama as boxing. It only takes one punch. With one well-placed or desperately flung blow, the entire course of a fight can change. A fighter, hungry for success, can get reckless, leaving himself open to a counter attack. Such an attack can have the finality of the full stop at the end of this sentence.
---
ROUND  3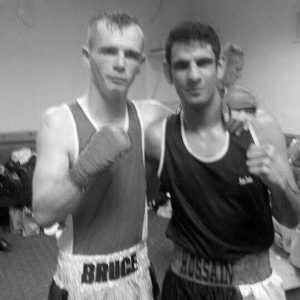 After the fight I remember nothing; a few punches are temporarily tattooed as bruises on my body. The fight, for all the training, waiting and hype, is over quickly. I only remember being tired. The pain hasn't registered yet. Adrenaline works its magic for now.
My hand is raised in victory. Victory will always stay with me, written on my record. People congratulate me. Well done! Brilliant. Fight of the night for sure.
The pride and achievement make it all worthwhile. It makes the pain, dieting, and self-doubt a small price to pay.
Power. Strength. Courage.
Perhaps, I am everything I pretend to be.
To write about the thing I love doing the most is difficult. It is impossible to put into words the euphoric pleasure of boxing- language seems like a pale ghost of the feelings I experience in the ring. The language of boxing is doing: performing the rituals, rehearsing the movements, exposing the body and fighting. An addictive behaviour. The thrill is like no other.
By reflecting on my boxing, I, naturally, isolate parts of myself and try to fix them to the page, to give the measure of myself: body, mind and soul. Boxing has a truth to it that is inescapable. You cannot, as a serious boxer, cheat and lie. All is revealed on that square of canvas. As much as this page is the canvas that I am painting these images on to.
The sport has been a perpetual source of inspiration to film-makers, novelists, poets and historians. It is forever being written about. 'Writing about boxing is often nostalgic, evoking a golden age long since departed'. (2) It is with this nostalgia that I write now. Not because my boxing is a thing of the past, but because the writing of it evokes in me a longing to return to the excitement of a match.
'What you have with a fight is what you have with writing, and they each become metaphors for each other: the ring, the page; the punch, the word; the choreography, the keyboard; the feint, the suggestion; the bucket, the wastebasket; the sweat, the edit; the pretender, the  critic; the bell, the deadline'. (3)
There is a difficulty in retelling my experiences because boxing is a sport in constant motion, the boxer intent on doing not thinking. To write about boxing, first I must imagine myself back into the dynamic, fluidity of the fight and I must slow things down. The writer needs time, thinks carefully before his fingers patter a combination of punches onto the keyboard, constructing a line that has impact. The boxing mind fires out the combinations on instinct, is reactive and impulsive.
Writing and boxing are, for me, both cathartic in their own ways. The feeling of sliding my hands into the gloves, clenching them into fists is powerful. Writing, creating stories, voices, characters, is its own release. In both arenas I become something else, something more. Both are hard and allow me to grow. Both are part of my story and different parts of my identity that I perform to the world.
References
McCann, Colum, The Hurt Business, edited by George Kimball and John Schulian, (London: Aurum Press, 2013), p. xii.
Body, Kasia, Boxing – A Cultural History, (London: Reaktion Books, 2009), p. 7.
McCann, Colum, The Hurt Business, edited by George Kimball and John Schulian, (London: Aurum Press, 2013), p. xi.