Tweet
Stranger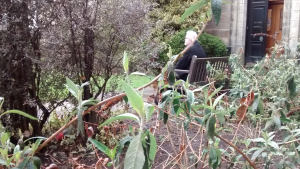 he sits on the very edge of the bench legs crossed hands on his knees fingers strongly knitted together his whole body bends to the front it seems as he was just about to get up and go but forgot about it his hair is grey almost white
his skin is tired nose off-colour and glasses dirty
his face is easy to forget but the look he has will stay on my mind for at least two days he sits quietly does not move only his nostrils move slightly only then only then and then 3 blinks 5 seconds pause 3 blinks 5 seconds pause perfectly developed rhythm he is so calm suspiciously calm
he wears green coat black shirt classic grey trousers a small stain above his left knee wait no it's not a stain it's a patch he must have fallen off his bike a few summers ago did it hurt
brown leather shoes black socks one is a little bit slipped what a skinny calf and now I see how incredibly thin he is
his thumbs begin to spin around one another slowly but confidently as an old carousal
he yawns closes his eyes I count to 3 he opens his eyes 2 seconds pause 3 blinks repeats
his glance does not go away does not follow a single passerby does not notice me does not react to any sound he just blinks and spins his fingers I am bored
I imagine us drinking wine his bony face turns red I create his voice unmusical slow and peaceful as a handle of draw well she was 9 years younger than me the only child of a farmer he says after eleventh sip then starts coughing put his glasses on the table his eyes are watering can I get you some water no he is fine we laugh eighteen sips later he tells me how important financial derivatives are what the notion of rationality is he talks about French economist Maurice Allais and his theory you don't get any of this do you he asks twenty three sips later I smile we keep on drinking and laughing you see his step son has a mole at the very same place as me right on the eye brown what a silly place
an old woman shows up and I stop daydreaming she has something to tell him his eyes are expressionless he sits there unmoving without a sound only his fingers still spin
a child cries 3 metres away I can't hear everything she says her accent is Scottish he blinks in concentration when she says something about last Thursday a cold smile appears on his lips a smile that looks more as a gasp
it takes about 16 seconds for him to stand up she doesn't help just talks about Stacey and how she never called he looks back several times and starts walking she stays on the left he walks too gracefully for someone who can stay on the bench for so long I see him shaking his head
there is no sun only dozens of people windy as usual someone yells at a child he disappears in the crowd of strangers
all strangers but him no strangers but him
I feel Toni Morrison's experience so deep on my own skin when I miss a man on the bench I aspire to be peaceful as him my inspiration as well as my fear to be numb as he looked he was all

Returning home
48 sculptures
Doors are open
kids' eyes are closed.
This day is over for them, but not for
14 drunk artists –
overlapping, disagreeing, laughing.
It will take 48 minutes
for them to start crying
and kissing each other's hands.
A woman with plain face
brings coffee, treats
a sense of justice,
sobriety.
Her eyelids are just like the curtain:
heavy, purple and old.
It's dark
Hundreds of books on the shelves,
written in kirilica, dusty and unread.
A yearning for education,
a fear of not knowing,
(occupation).
Two flies on the carpet
Too shy to join in, too drunk to fly.
Two people waltzing in a photograph
(They don't look at each other)
Nothing has changed.
But this white orchid
so beautiful and weak,
competes with a newborn.
Insults a poem.
Someone's coughing wakes the porcelain cups,
they shake and jingle
just as her gipsy soul.
This table has seen tragedy and comedy,
been used,
re-used.
dragged as a witless donkey.
And still stands at the east side of the room.
Take off your hat to no one
Come in.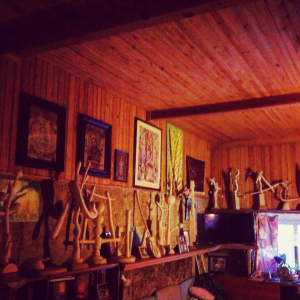 When my mother fell in love with my father, seventeen years older artist, her sister cried for five days. When my mother became pregnant with their first child, my father built a big room above his workshop. It had two windows, two beds, couple of cupboards, a table and long shelves for his sculptures and books. When my mother became pregnant with their fourth child, my father did not build another room, but he bought more books and made more sculptures.
This room above my father's workshop is my home.
The tip of my tongue dances when I pronounce home. I stand tall and proud. My heart beats. My palms get itchy. An odd feeling in the stomach. I become emotional. I think they call it longing. You can always count on home. It's a place where there is no need for a mask. It's yours whether you are hurt, sick or content. It holds you within its walls, puts the outside world to silence and makes your breathing slow and sweet.
My home has been a little bit crowded. Not to have your own space as a teenager was pretty frustrating, but at least I never faced issues as a scratched poster on the wall or a broken CD player because we simply did not have those things. Yet, there have been times when I hated this. Times when I wanted to invite my friends around or talk silly little things on the phone without my sister learning the alphabet three steps away. I wanted to leave so desperately that when my sister got married and moved out, I locked myself in the circle of envy and tears. Oh how lucky she was to escape I thought.
Not long after that, I escaped too. I saw my mother crying while watering an orchid. My sister was eating an orange (I still vividly remember its smell). Father was welding in the back yard. As always. I longed to find a new home. But…
Now I want to hear her steps in the kitchen, hear him turning the pages of newspaper. I don't want to ask again why we iron napkins or who took my slippers. I want to look closely when he shows me how to fix my shoes. I want my home back.
I come back now as a grown-up who has opinions and ambitions, but doesn't have time. There are many returns home, but I don't sleep beside my sisters, lying awake in the middle of the night, imagining we were witches and trying not to laugh. They phoned me up last week to say that dad stopped subscribing to newspapers.
It's not the same, they said.
I smile. Close my eyes. Open my doors. I smell an orange.
Somewhere far, really far away I hear my father welding.

(mis)communication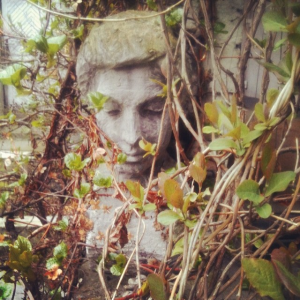 I knew a woman who used to sing me to sleep. Her lullaby between reality and imagination, like a slow and soft drizzle. She and her pale skin, she and her hopes, she and her golden ring that was too big for her childlike palm. We used to play earthquakes, storms and floods. We were the only survivors, kissing and embracing each other. We used to play blood. We used to play murder. We used to play forced marriages and cancers. And when it was too dark to laugh, she used to push me away as if I was a statue on a chessboard. She won every game. She won every earthquake and every cancer. She was a queen when I was a rook. She told me that all dead people turn into jasmines. She told me that our century is shorter than a minute. She told me that after December one loses count. She told me that I will always be lost because I am short-sighted.
(I have nothing more to grasp. For not listening to your song, forgive me.)
I heard that she left the country two y(t)ears ago. She sent me a post card, but I changed my address three times before it arrived. She tried to call me, but I couldn't hear a word she said and I don't know what to blame. Connection or the sound of my fear. That same night I had a dream of her questioning me if she smelt of a fool. My lover woke me up and asked me why I was crying. I told him I was laughing.
I knew a woman who used to sing me to sleep. She said that finding a right sentence can exhaust a mind, but never narrow it. She said that God is a woman. She spoke every word as if it was her mother's name. She called her song 'my silence'. She told me to find a man who would whisper numbers into my ear as if they were a poem or a melody; numbers of planets, distances between continents, lengths of the oceans.
(I have nothing more to grasp. For not listening to your song, forgive me.)
Changing continents must have left a scar on her tongue. I imagine her sitting on the edge of Europe, murmuring her prayers when somebody asks if it's drizzling. The railway line ends with the confetti of tourist brochures. She stands up, clears her throat and quotes Morawski: 'after you've burned all your maps the legend remains'.
But nobody listens. The world around her is purely the godless, full of shallow relationships, slow digestion, technology and miscommunication. They put their headphones on and walk away. She is not in charge of the game anymore. She cannot win.