Tweet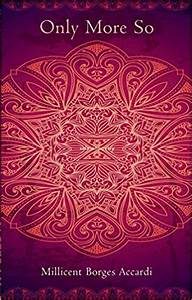 Millicent Borges Accardi's fourth collection of poetry, Only More So, urges the reader to take a plunge "into frozen water" which abruptly rages into threatening currents. Accardi's work has appeared in over fifty publications and she has received many literary fellowships, such as the NEA, Fulbright and the California Arts Council.  Throughout her work, the Portuguese-American has been preoccupied with depicting the hardships forced upon women at the hands of men and nature, portraying various female experiences during the devastation of wars, sexual abuse, and breast cancer – all of which many women are forced to endure alone and in silence. Despite the many horrors in the world, the idea of women's survival lingers in all. This book's refreshingly brave themes produce a compelling reading experience. Accardi's presentation of these themes and use of free verse allows the reader to have both a historical and personal take on each poem ‒ to read each with vulnerability.
Accardi achieves this using repetitive lists in "Ciscenje Prostora", a poem which recounts a rape committed by a soldier, and links this sexual trauma to the trauma of war:
This woman does not know he
carries the devil's four poster bed
in his palm, clutching it like promised
money: Bosnia, Croatia, Serbia, home.
The unique way in which Accardi has incorporated a list of locations in the final line of this stanza links the horror of rape with the horror of war in Bosnia, Croatia, and Serbia, places have recently been subjected to war. The juxtaposition of this list of war-torn locations and the singular ending of "home" creates anxiety, the connection between these places of violence and the comforts of home clash vividly. By creating this contrast, Accardi opens the door for personal and political interpretations, an aspect which is consistent throughout the collection. This list also acts as a chilling metaphor for "the devil's four poster bed", indicating that this woman's safety at home is now as destroyed as the countries listed above.
The second half of the book questions the relationship between human sickness and poetry. In "Under Different Conditions," Accardi's lyricism is evident even when attempting to write about diseases like breast cancer:
They say once you have it
it does not go away, like a thirst
for liquor, a child, intelligence,
an abusive hand, a talent with
words, blindness, poverty,
a green thumb, perfect pitch.

They say it changes form,
hiding around corners of the
bloodstream, inside the bones
of imagination, in the minds
of worry, between the lines
of every poem you read.
In this poem, Accardi continues to use lists to create a stark contrast. The comparisons of cancer to "poverty", "perfect pitch", and "intelligence" is striking, signifying the ambiguity of responses to illness. The second stanza is even more foreboding with its gothic imagery ‒ "bloodstream" and "bones of imagination" ‒ and in the final line of the stanza Accardi invites the reader to consider the fragility of human life and survival in the form of poetry. By highlighting this relationship, she urges us to consider how poetry can help us understand and cope in the darkest of times. Accardi makes the search more interesting by acknowledging that the answer is not always quite within our reach, and in never addressing the obvious, she allows the reader to come to their conclusion alone.
Accard's collection Only More So is thought-provoking and comes at the reader from all angles. It takes themes that are present in her previous work, develops and deepens them; she is an evolving poet. Accardi's ability to manipulate lists and contrasting language creates a hard-hitting collection that touches on history, politics and personal life in an altogether unique and interesting way.