Tweet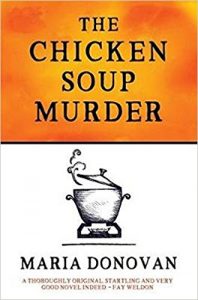 "The day before the murder, George Bull tried to poison me with a cheese sandwich."
With this hook, Maria Donovan opens her debut novel, The Chicken Soup Murder. The narrator is eleven-year-old Michael Davies, battling lactose intolerance alongside the perplexities of impending adolescence in a small coastal town in Dorset. Michael lives with his Nan and liked his life before George Bull and his dad, PC Shawn Bull moved in next door with Nan's friend, Irma. The cosy arc of pebble-dashed houses was a happy community. In the summer there were barbecues and cricket with his best friend, Janey and in the winter, there was Hallowe'en, bonfire night and fireworks. But Michael's world is turned upside down when Janey's dad dies. Janey's mum crumples under the weight of grief, withdrawing into the safe confines of her dressing gown. Then Irma dies suddenly whilst making chicken soup, and Michael can't accept that she died of natural causes. He is convinced that he witnessed something strange though the kitchen window and suspects PC Shawn Bull of murdering her. Why else would all the evidence of the soup she'd been making have disappeared?
If the opening line of the novel is reminiscent of Adrian Mole, it is because there is humour to be found amongst its themes of love, loss, family secrets and above all, growing up. Donovan evokes a strong sense of place and time. The novel is set in 2012 and meticulously draws on the sporting events of that year – the Olympics, Andy Murray's tearful defeat – and the weather, mostly rainy. In a recent interview with Tracy Baines, Donovan said that she'd kept a detailed diary of things that were going on in that year because she wanted her story to feel realistically rooted in time. Throughout the novel, the cricket commentary plays like a radio in the next room and this was particularly important to Donavan because: "I think people notice when they are grieving: this odd sense that everything is carrying on just as before, while for you everything has changed."
Donovan speaks from experience. She lost her own husband, Mike a couple of years before she began writing The Chicken Soup Murder and in between she had been writing shorter pieces which expressed the way she was feeling. Shapeshifting into the mind of an eleven-year-old boy allowed her to get a fresh perspective on grief, and it works well. Not only is Michael trying to come to terms with his own feelings about death, but he's also a witness to Janey's struggles with her bereaved mother and her frustration with trying to do normal things like play at a county football match.
"'Dad would have taken me.'
Her mum sticks out her chin. 'But he's not here, is he?'
'It's not very Judy Murray of you, is it, Mum?'
'I don't want to see my girl crying because she's lost.'
Janey walks out. I think she's crying already."
Michael's determination to prove that Irma was murdered drives the narrative and gives Donovan the opportunity to flesh out the Michael character, though not always sympathetically. As the victim of bullying by George, Michael seeks to turn the tables on him at the earliest opportunity and then bullies him back. There are spiky exchanges with his Nan and pangs of jealousy when Janey strikes up a friendship with 'Golden Boy.' We are in no doubt that Michael's intentions are good, but it is credit to Donovan that his reactions and responses feel authentic for a pre-pubescent boy.
The mystery of Irma's death and the mystery of why Michael lives with his Nan are neatly resolved at the end of the book, and there is a sense that everything will work out in the end. A highly recommended read.