WAYPOINTS: SEASCAPES AND STORIES OF SCOTLAND'S WEST COAST
Tweet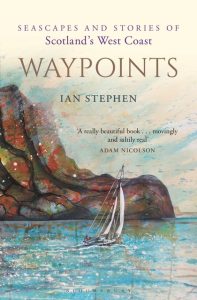 There are certain realities accessible only to a handful of people. Across 300 pages this book takes the reader to the unique reality of Scotland's West Coast and offers a detailed account of life and culture in the region. However, as every reality, it's not for everyone.  Ian Stephen comes from the Isle of Lewis in the Outer Hebrides, where he worked as a coastguard for fifteen years. Since 1995 he's been a full-time artist – his works include a poetry collection Maritime and a novel, A Book of Death and Fish.
Waypoints: Seascapes and Stories of Scotland's West Coast is the first book of a planned trilogy and it's illustrated by Christine Morrison; her artwork creates an immersive atmosphere. Pages, trapped inside a sea-blue cover, are inhabited by ten vessels dear to the author, every chapter dedicated to one of them.  Each chapter begins with a very detailed, technical description of a chosen vessel. That may not sound particularly fascinating, but Stephen treats every boat as a living entity. At times it feels as if he were describing living creatures – his lovers – rather than wooden structures. For example, when comparing two boats, he writes:
Despite her age, the old Broad Bay still seems lively and petite. This is a boat you can banter with. An Sulaire is more the diva. She can scare you a bit as well as impress you with her capability to charge on through huge, clashing seas. She has the power and buoyancy to venture from the bay to the ocean.
Stephen's precise eye knows how to describe his marine reality, consisting not only of the vessels but more importantly, of the water itself, and all the adventures accompanying it. Parts of the book relating episodes from Stephen's life are strongly autobiographic, describing not only the dangers of sailing, but also relationships with his children, wife and friends. He considers boats his second homes, family places where he and his loved ones grow. His language never fails to capture precious moments:  "I knew this to be one of the moments of peace you savour as a sailor, the ones that erase memories of shivering and the noise of breaking seas on a lee shore."
Further developing his linguistic performance, in each chapter Stephen includes at least one poem. These are short, evocative and philosophical; imbued with seascapes and technical details, they project the mood that this book follows. It's a slow read: page after page feels like a meditation – browsing through someone's extremely well-edited and polished notebook. Poems embrace the constant change:
[…]
But our charts
smudge and
fall apart
obsolete like our dictionaries
before we can proof them
and peaceful order:
[…]
Blue plastic strands,
out in the streams,
are confusing
until you cease
ordering them about [.]
The second poem is directly reminiscent of the meditative practice, the art of emptying the mind and letting distracting thoughts go their own way. That's the kind of attitude this book requires. The last component of each chapter is a retold story from the region and it's the part that I personally found most entertaining: "There is an inevitable irony in sharing a folk tale. You have to put it into your own natural voice to keep it alive but you have to lose yourself in the telling."
Consciously, Stephen crafts the stories in a way that feels both universal and personal. These tales show that somehow the sea preserves the tides of generations, for "sailing skills are passed on, like stories." Waypoints requires a focused yet relaxed mindset, but when it's achieved, this book brings the reader into a vivid reality of Scotland's West Coast, with all the peace and danger, described in the beautiful language of a conscious writer. This is a book that should sit on a shelf and wait to leave it, like a boat moored by the shore, waiting for an adventure.