Tweet
Degree shows are such fun but can be exhausting. I therefore recommend heading to Level 5 in the Crawford building at the start of your visit; it would be a shame otherwise to find yourself here at a point when you are running out of steam or time. This floor offers a true multisensory experience, works span across video, sound, sculpture, painting, drawing, animation, print making and community art. Often several of these are present within the body of work of one single artist. For the viewer it offers an enjoyable and stimulating experience, only sometimes do I find myself questioning whether some elements could have been left out for the benefit of a more concise presentation.
Within such an eclectic and impressive collection of works, singling out individual artists is hard, but I will begin with mentioning the work of James Fallan. His work questions one-sided media reporting on immigration, connecting history with today's media climate. In the process of making his work Fallan walked from Glasgow to Dundee via Edinburgh, inviting the people he met on the way to contribute with drawings and written comments. Back in the art school he created a group of traditional bronze bells to ring out more diverse news. There is a lot going on in his small space; video footage of the various processes as well as the art works themselves; yet it all comes together as one. "It is okay to ring the bells", he tells the visitors ‒ a truly participatory work of art!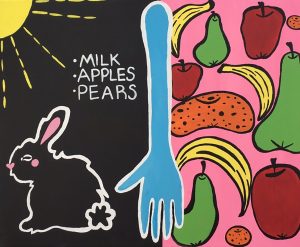 Next door you find yourself drawn in by Chloe Cameron's work. Created in bright, cartoonish colours and forms her sculptures and paintings contain imagery associated with happiness and carefreeness, but also the mundane and everyday. There is no explanatory text provided here and that is fine, sometimes it is nice to feel free to make your own connections. For me the work references the optimism of the pop art movement whilst subverting mass consumerism, which pop artists such as Andy Warhol embraced. It also makes me reflect on how much focus there is on commodification and surface today, and how hard it can be to navigate that, especially as a young artist.
Nina Stanger's mixed media exhibit occupies its own room, and combines intriguing sculptures with screens showing close ups of spinning sculptural shapes set to evocative sound. When entering the space I first notice a smell of rubber which, even though it might be unintentional, adds to the experience of something strange and artificial happening. I did end up feeling a bit puzzled by the work and the accompanying explanatory adds to my confusion; maybe I'm getting a bit overwhelmed. The work is related to sexuality and women's bodies I think. In any case, it is confidently executed and comes together well as a multimedia experience.
These bold works contrast nicely with the more subtle and quietly thoughtful pieces in the show. Connecting with, and caring for, nature is a recurring theme amongst these works by for example Tina Scopa and Lara Orman.
There are also more intuitive approaches to making art. Jade Kerr's small ceramic and mixed media pieces are mainly presented on floor level, letting playful and contrasting relationships, and compositions develop between materials and sculptures. Nearby you find Sara Varady's competent work. Her prints and ceramic sculptures especially draw in the viewer with their dark, mystical quality. It is a shame that the exhibition space is a bit cramped; in a bigger space and with a more considered presentation each single piece would have had an even stronger presence.
This particular snippet of the degree show bustles with creative energy and fierce political awareness, alongside more subtle, sensitive approaches. The students don't shy away from difficult issues in their art, but the works are created with such awareness and thoughtfulness that you leave the show feeling uplifted and positive about the future, not least of the arts in Scotland. Go see!