Tweet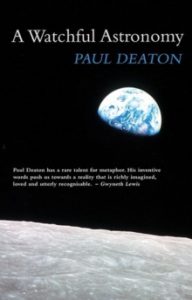 What does it mean to be true to the self? How can we come to terms with the atmosphere of our upbringing and with the life force which propels us? These questions seem to set the remit of Paul Deaton's carefully observed, plain-spoken poetry: "Pushed or pulled the growth of your life?" ("Profusion").
Deaton grew up in Wales and is now based in Bristol. A Watchful Astronomy, his debut collection, was a Poetry Book Society Recommendation and individual poems have been widely praised. His literary landscape favours the rural setting and the night sky, but he is familiar with city life and often depicts omnipresent nature in terms of urban drama or dereliction: "Someone has poured petrol over the gorse." ("This Easter"); "The lupins and foxgloves go up like kkyscrapers"("Profusion"); "The sniper sun crests the snowy hill," ("The Coffin Hut").
As the title of the collection suggests, Deaton is a quiet observer who wonders in a secular way. He makes the moon "a slavish stalker who hangs around all night" ("The Stalker") or "a farmer looking over a gate" ("The Gate"). In fact, as one spends time with this collection, there is a growing sense that the moon motif oversees the emotional feel and thrust of the work as a whole. The Watchful Astronomy of the title could be taken to refer to the silent presence of a taciturn moon and as much as to any human endeavour. To be watchful implies a sense of hope, although the activity might be taking place elsewhere:
We have slept a night
and the whole sky has cartwheeled over us.
The stars, like workmen leaving a shift,
broke the gates and just plain wandered off. ("The Coffin Hut")
These poems have been hard-won from silence and, behind their polish of restraint and accessibility, there have been difficult shaping forces.  One such force is Deaton's emotionally distant father, a figure who gives weight to the collection as Deaton tries to make sense of him:
He carried my life before him like an erratic boulder.
This man I couldn't fathom. He said he was
needless of love, but this did not set me free. ("Inselberg Father")
These poems will resonate with anyone who has experienced similar parenting. These are poems which long for connection; Deaton has cut through layers of complex emotions to deal with his father's death, achieving something closer to equanimity than many might manage:
DIY the goodbye tasks he had to do.
I knew what was coming and somehow he did too
Round at my sister's with tools in hand,
to fit an alarm – they clashed – his trademark bitter reprimand. ("DIY")
The DIY pun suddenly leaps into focus like a momento mori skull resting on a shelf his father might have built.  A natural sense of metre is apparent and well-employed in Deaton's poetry. In the above example, the default rhythm is trochaic with occasional breaks into dactylic or iambic meter to add pace.  It is that extra spondee – "bitter" – that makes the poem.  To set this relationship down as a poem demonstrates the alchemic act of forgiveness.
In "Owl", Deaton lets dactylic metre set the action – "I shuffle between rooms because I can't sleep" – and once again, shifts in metre cause the reader to listen and to negotiate the landscape of "clumpy valley" towards  the next stanza:
And, as I stoop in darkness between doorways,
wishing I was asleep, mind-mysterious,
head pitching like a hand-held lamp;
I wonder: what tree or branch was I vainly looking for?
As he moves towards the threshold of his next poetry collection, propelled by those mysterious life forces inherent in our language itself, Deaton's poetry is sure to "find in the black blindness what it needs to find" in ways that continue to resonate with his readers.