Tweet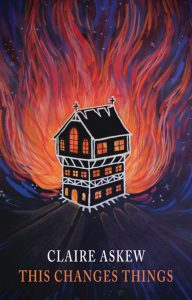 Claire Askew's debut collection, This Changes Things, opens with "Dukkha", a starkly beautiful and shocking poem, at once lyrical and political.  It moves from a list of basic human needs – simple shelter, water and food – before escalating to include guns, banks and barbed wire to protect property and resources. It ends chillingly:
[….]                The lamp must strike,
the gun must kill its target cleanly.
This is all you want.
This is all that anyone wants.
This first section of the collection is made up of stories of childhood and family: well-sustained narratives with titles such as, "I'm sorry I'm still in love with my grandmother" and "Catalogue of my grandmother's sayings".  There are some lovely rhythmic lines and rhymes. "Anne Askew's Ashes" ends:
[….] A blazing witch, now silent as the earth –
you are the ghost in every fire I birth.
This unsettling tension intensifies to a shocking climax in the final line and emerges in many of the poems, built from the interplay of image, sound, and precision of description.  "Hometown", for example, a poem about adolescence – when "You cheggle off your fringe with safety scissors/in the public loo" – concludes:
You get home as the street lights start their on-off
orange flirting with the trees. Your sister says
if you don't leave this town when you grow up then I
will break your knees.
The internal rhymes and superbly controlled rhythms in "Poltergeistrix", about a dead woman who returns to watch her lover in his grief but witnesses the less savoury sides of him he'd kept hidden from her, similarly build to a creepy and shocking crescendo:
She gives up: finds a crypt whose lock is good.
There'll be no piss-stink, no kids crawling in
to smoke and fuck, just leaf mould
and the local dead. She's heard you get
a dying wish, and saved hers up,
but now she speaks it to the hunkered stumps,
the graveyard and its scary sky. Make sure
he never finds me. Better: never let him die.
There is a fabulously surreal kink to Askew's imagination which brings a fresh angle to familiar subjects such as love and death. In "Thing about death", for example:
The worst thing about death must be
the truly weird things you miss: psoriasis
and heartbreak, buses, seagulls, flip-flops,
anarchists at dinner parties, all the dogs you ever
owned.
Humour abounds in this collection too, though – in "Royal Mile, the day after the vote" – "Yes, say the lampposts, and the downpipes. Yes."  If that's a bit of an in-joke for Scots, "Bad Moon" is a poetry world in-joke:
The moon must be sick of being in poems –
always gripped by fingers of late honeysuckle,
always filtered in the lake through the jetty's slats […]
The poem ends,
Never the white cat under the truck's wheel,
never the beached and stinking jellyfish.
Never the gallstone or the pulled tooth, of course.
Nobody wants to read poems about this.
The tone throughout this collection and the focus on the lives and experiences of women provides cohesion. But there is also variety, not just in the range of subjects addressed but also in the form, pace and perspective of the poems. In "Rescue Industry", the narrator enters directly into the poem:
Some guy with eyebrows like awkward questions
won't quit staring at me in the queue.

I'll put him in a poem where he loses seven fingers
and an eye, without explaining how.
It's no wonder this fizzing first collection was shortlisted for several major poetry prizes, including the Saltire First Book Award and the Edwin Morgan Poetry Award. There is a technical deftness to it and a real skill in treating political and personal subjects with a lyricism which is at once entertaining and beautifully dark.