Tweet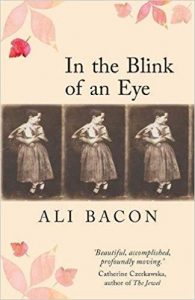 Ali Bacon is a graduate of the University of St Andrews and worked as a librarian at the Bodleian in Oxford. Her first novel, Kettle of Fish, was published by Thornberry in 2012. In the Blink of an Eye is set in Victorian Edinburgh and charts the fortunes of two pioneering photographers, Robert Adamson and David Octavius Hill. Commissioned to execute a huge painting of the 400 Free Church ministers who broke away from the Church of Scotland in the 'Disruption' of 1843, Adamson and Hill use the medium of 'calotype' photography to capture the ministers' portraits. The story is narrated by women and men whose lives touched the pair and the author uses Scots and colloquialisms to capture their distinctive voices.
The novel opens in 1866. One of the dissenting Free Church ministers, Malcolm Scobie, travels to Edinburgh to view the painting of the 400, but he is disappointed to find that his own portrait is missing. The narrative then moves back in time to 1843 where it focuses on Robert Adamson's early career, seen through the eyes of his sister, Jean. Adamson, of frail health, but determined to advance his discoveries in the field of photography, is setting out to move from St Andrews to Edinburgh. Meanwhile, a family friend of Hill, Jessie Mann, is experimenting with her own attempts to make photographs, hampered by caring for her mother who is suffering from dementia. She finds an escape in becoming a technical assistant to Adamson in the processing of the calotypes as Hill and Adamson become sought-after by Edinburgh society.
Elizabeth Rigby is an art critic who frequently spends time in Edinburgh and supports Hill's work through her writing. She visits Hill often and is photographed by him on several occasions. She is attracted to Hill, but any romantic impulses are driven away by her rational nature. She is destined to become Lady Eastlake when she marries advantageously. Elizabeth Hall is at the other end of the social spectrum. She is one of the fisherfolk of Newhaven of whom Hill and Adamson created a famous series of portraits and studies. She narrates her encounters with Hill in simple and direct language:
'Have you come from the town?' I ask him. He nods. 'From Calton Hill. We brought a coach as far as the Links.' Where he has placed the chair, I am squinting into the sun. Mr Hill comes closer. 'Excuse me,' he says and tilts my chin away from the light. I can smell the hot felt of his suit and something of lemons in his hair. 'Keep your eyes cast down' he says. 'We can afford a shadow of two. Try to stay as still as you can.'  News has travelled up the street and a small crowd gathers to see the men and their picture machine. Jeanie is there with her three bairns, all blue-eyed with auburn hair like hers. I think about how she will live on in them.'
The last sentence reminds the reader how Elizabeth and the fisherfolk have lived on in Hill and Adamson's work.
Amelia Paton is a sculptor and sister to the artist Joseph Noel Paton. Her story is the most exciting of all the women players in the novel. She travels to Italy to study under a master and the two become lovers. Much later, Amelia marries D.O. Hill and the novel ends with Scobie almost running into the aging couple as they stroll through the streets of Edinburgh.
This novel brings into focus how women of all classes struggled against Victorian patriarchal mores that limited their movements, employment and agency. Bacon's female protagonists are acutely aware of the restrictions they are subject to, but the novel insists on seeing them whole, rather than simply as amanuenses to the 'Great Men. The novel provides an illuminating and convincing view of Victorian Edinburgh.