Paolozzi Revealed: Ten days with a creative Titan
Tweet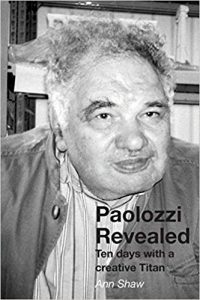 Picking up Paolozzi Revealed, I did expect a window into the private life of this creative titan. Instead, this summary of a Masterclass run by the renowned sculptor reads more like a research paper on creativity. But maybe that is indeed, in itself, revealing of Paolozzi, this book seemingly an embodiment of the creative process.
In 1996, Ann Shaw, a Welsh journalist who has spent most of her life working in Scotland, was accepted on to a 10-day Masterclass with Eduardo Paolozzi at Edinburgh College of Art. This book is her unabridged diary from that time, following the events of the course day after day, giving an insight into the work of her fellow students and the personality of the teacher himself.
Paolozzi is without a doubt one of the most influential artists of the 20th century. Born in Edinburgh to Italian parents, he worked for many years in Paris, America and Germany, before finally returning to Britain. Fascinated by technology, he left behind some iconic pieces of sculpture – The Artist as Hephaestus (in private collection), Newton after Blake (outside the British Library in London) and Vulcan (in the Scottish National Gallery of Modern Art in Edinburgh). He died in 2005.
The book is full of photographs from the event, taken by the author herself (Shaw was appointed as the class photographer). These create the atmosphere of the event and offer a glimpse into the life of the group – both the chaos and order of the workshop. The book is concise – it provides an account of conversations and emotional reactions, interwoven with the author's own remarks about how the Masterclass is changing her and how her point of view begins to move over to Paolozzi's.
"You can't teach art. All you can do is to provide an environment in which art can be produced." These words sum up one of the main points of the book – for Paolozzi certainly didn't tell his students what to do, he didn't guide them step by step through various techniques; he merely built a creative space – the mechanics of which he understood perfectly – and let his students thrive within, almost leaving them alone. This caused anger and disappointment among some of the participants, who expected to get exclusive knowledge for the money they had paid to take part in the Masterclass. But Paolozzi knew that there is no instant kit that can transform a person into an artist. Nevertheless, he realized that the environment he created would become the teacher itself – students learning as much from each other as from him. Through short conversations at lunch, the varied course structure (including field trips and guest artists) and his comments on students' works, Paolozzi gave the author what she describes as "a new pair of eyes": "he has taught us to plunder the past, to ransack other cultures for images and to re-interpret them in our own visual language."
Does Shaw truly reveal Paolozzi? She certainly manages to give us a peek at the personal side of the feared artist, surrounding this with stories relating to how rude, bossy and unpredictable he was. Indeed, just as she provides anecdotes supporting this image of the heartless artist, she also relates stories that show the great sculptor as a vulnerable and caring human being. He was dedicated to art and the creative process.  He retained "the ability to look at things as if he were seeing them for the very first time, and to recast the world in his own imagination." He knew how to motivate and inspire pleasure – a crucial ingredient of any successful creative recipe.
Paolozzi Revealed: Ten Days with a Creative Titan is a window into the environment of artists inspired to look differently at the world by a mysterious mind at work. Frankly, it should be a compulsory reading for anyone signing up for any kind of creative class, especially if they expect to come out of it as fully accomplished artists.