Tweet
Francis Alÿs is a Belgian-born artist based in Mexico with a long-term interest in the current affairs of the Middle East. Knots'n Dust has been organized by the Beirut Art Centre and was on display in Lebanon in spring this year. Through animation, drawings, paintings and sculpture, Alÿs explores two themes ‒ the complexities of knots and the notion of turbulence (meteorological events and the never-ending conflicts in this part of the world).
Visitors enter through black curtains to see Tornado (2000 – 2010), a video projection presented on a large screen.  Alÿs chases these turbulent 'dust devils' with his camera, attempting to enter the eye of the storm.  Later, at the end of the exhibition, the attendant encourages visitors to take a series of four free postcards commissioned by the Beirut Art Center depicting cars covered in dust from the storm. On the car windscreens Alÿs has written a series of reflective sentences,
"Sometimes winning is losing/Sometimes losing is
"Sometimes we live as we dream/Sometimes we dream as we live"
"Sometimes reality meets fiction/Sometimes fiction meets reality"
"Sometimes to extract is to abstract/Sometimes to abstract is to extract"
The centerpiece of the exhibition is Exodus 3:14 (2014-2018), an installation made from a selection of the thousand drawings made by Alÿs for an animated film of a woman tying a knot in her long hair, a knot that quickly undoes itself.  The drawings have been are arranged floor to ceiling in a simple maze-like structure that entices the viewer in. Embedded in one of the maze walls in the place of one of the drawings is the completed animation looped in an endless display of tying and untying.  The drawings are numbered, annotated in Spanish and show the artist's rubbed out lines as they were reworked and redrawn.  In the accompanying exhibition guide Mark Titchner writes,
Untangling knots is the only thing a machine is unable to do. Knots request and epitomize the work of hands, as well as representing links and bonds, resistance and binding . . . in much of Alÿs' work, every affirmation comes with its opposite, every gesture comes with its own undoing.
Do, Undo, 2008 is a short video installation depicting a simple flick book which reinforces the meaning of Exodus 3:14. The effect of staring at the same location as the pages turn, rather than reading from left to right as in a conventional book was strangely hypnotic.  Combinations of the letters UNDO flicked before my eyes, separating out to spell UN, DO and UNDO. It took a comment from another visitor to snap me out of my trance, and consider whether UN might refer to the United Nations, and whether the installation was a prompt to consider about the UN's role in the region's conflicts and refugee crisis.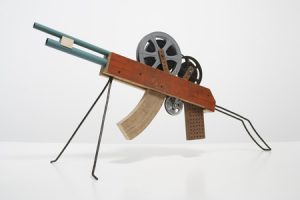 A 3D sculpture, Camgun (2001-2006), shaped like a child's toy wooden gun made from cameras, weapons and a metal roll of film, is a playful visual pun on the word 'shooting.' Guns and cameras are both instruments of assassination. In modern times, a single recording of a person's misdemeanors or slip-ups is all that's needed to destroy a person's reputation; character assassination is as swift as a bullet.
Alÿs has travelled widely in Iraq and Afghanistan and is well known for his practice of 'walking as art.' A pair of black shiny lace-up shoes, L'imprevoyance de la nostalgie (Dad) (1999), is carefully positioned on the floor in the middle of a blank white wall. Given his reputation for walking and travelling, the shoes are a stark image of immovability, a challenge to our passivity towards turbulent world events, perhaps, or even an invitation to action.
Knots'n Dust is an exhibition with interesting visual links between its themes; the artworks are accessible, engaging, thought-provoking and at times playful.