ASSURANCES (SHORTLISTED FOR 2018 FORWARD PRIZES FOR POETRY, BEST COLLECTION)
Tweet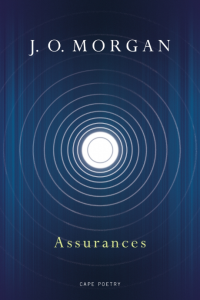 Assurances surely feels like the book J.O. Morgan was born to write, drawn as it is from his father's work as an R.A.F officer maintaining the Airborne Nuclear Deterrent during the Cold War. Morgan's poetry is widely recognised as being outstanding, original and this is his sixth book-length poem. What might seem a chilling subject becomes invigorating in Morgan's accomplished handling. He explains in his introduction that he chose to focus on the "undercurrent of waiting, in the ever-present awareness of what is lost when such a waiting is permitted to play out". So Morgan interweaves threads of narrative, where none are allowed solely to play out. Assurances is a courtship dance of possibilities, generated from devices of conviction and hesitation, creation and destruction. A variety of voices deliver messages that are assertive, secretive, interrupted, overheard.
When Morgan is dealing with the prose depictions of the aircraft, there is a sense that he is doing so in a context of the poetics of existence. The Vulcans are designed to deliver the bombs "to force those lower harder airs apart. Something all wing". The Victors refuel them in mid-air and in Morgan's depiction this becomes a sensuous act, gratuitously watched by enemy agents from a spy plane: "They sit back, they sigh, /avoiding eye contact." The transformation of information depends on the code-relaying Argosies, circling for hours "Just in case the strike-command comes/ through. Keeping full-fuelled and alert in the high thin air". Then Morgan diverges into one of his characteristic threads of thought about what might or might not happen in the relaying, concealing or in acting upon such a message:
Unless, when that critical code comes through,

there is, by chance,
a fault in one of the radios
where a single valve,
unseen inside, has popped [.]
Morgan uses parenthesis to deliver similes, which comes across as genuine signposting. He is skilled at drawing correspondences between nature and technology – for example in a passage where he contrasts sounds and activities of cattle being fed by the stockman overground with those of the inhabitants of an intelligence bunker below. Also, in brackets, he raises philosophical questions, the tone sometimes reminiscent of the "Book of Job":
(What curious hand wound up those bits
of sun and stone and sea, all packed in
tight and centrepunched, a single dot
held in a press of nothingness?)
That Big Bang of creation is cleverly paralleled with the scenario of the nuclear bomb that both does and doesn't go off in Morgan's meta-narrative.
In the event of nuclear attack, there is the disturbing fact of the "four minute warning" when "All they have left is to order the counter attack." Just enough time to go into the garden and contemplate the sunrise, or the explosion:
Now here the everything-she-is stands ready
for this culmination to the scheme so long ago
set on its course, for all the quicknesses in her
to be wrenched out, to leave her egg-blown.
The title, Assurances, is a master touch in its plurality. Any assurance of survival in the event of a nuclear war is slim comfort. Some readers may remember the pitifully inadequate "Survive and Protect" leaflet issued by the British government in 1980. However, Morgan is also drawing from that uncanny awareness of the presence of a beloved:
(Even in a wilderness, I'd feel that spark
the sense of someone else still being there.
With all that's bound between us…)
There is a deeper assurance – that everything that will ever happen has been already set in motion at the very outset, whether or not this reassurance is to the tune of Morgan's epigraph from Thomas Wyatt "…have I then done so grievously amiss/ that by no means it may be amended?" In the meantime, waiting is the name of the game. Thankfully, Morgan has told the tale, and we are still here to experience the world differently as a result of his thoughtfully intelligent poetics.