Soho (SHORTLISTED, T S ELIOT POETRY PRIZE)
Tweet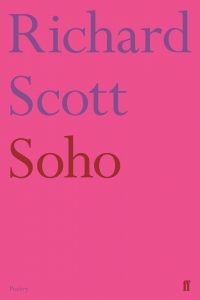 Richard Scott's first collection, Soho, is an uncompromising portrayal of life as a queer man, in a modern queer community. Intense and intimate, the collection is split into four parts, each focusing on a different aspect of Scott's queer experience: violence, love, shame and community – though elements of each of these themes run through the entire collection, bringing the individual sections together to capture Scott's experience as a whole.
Prefacing the first section is a single poem, "Public Library, 1998". With its first line, it explains the necessity of this collection: "In the library where there is not one gay poem". Scott aims to combat the censored and heteronormative history of the poetry industry. The poem starts off crude, with the persona graffitiing a library's poetry collection with gay pornography, but then he begins reading deeper into the poems themselves, and leaving notes pointing out potential queer subtext, "inking up what/the editor could not, would not". Thus the persona uncovers the presence of queer voices and themes that had always existed in mainstream poetry, but had hitherto been silenced or ignored. With this poem, therefore, Scott sets out his intentions to give voice to both the universal and his own, personal, queer experience, and to trace back these experiences through history, and the history of poetry in particular. This is perhaps the most tongue-in-cheek poem in the collection, with its blue puns: "rimming each delicate/stanza in cerulean, illuminating the readers-to-come" and playful, self-referential use of spacing:
open again the Golden Treasury of Verse and write              COCK
in the margin.
However, the poem's explicit nature and frank, defiant stance does establish the tone which will continue throughout the rest of the collection.
The first section, "Admission", sees the persona in a more vulnerable position, but the writing itself is in no way subdued. Throughout this section, Scott discusses abuse, both parental, as in "Dancing Bear", and sexual, as in the award winning "crocodile". With its lack of punctuation, "crocodile" is panicked and violent as it recounts Scott's experience of sexual assault:
he will press his white
rawness into me like that man
who held me from behind
when I didn't know sex and
gripped my mouth like a muzzle
and unsheathed his anger [.]
Following "crocodile" however is "plug", in which Scott celebrates the experience of receiving anal sex. Though still violent – "remember how I flinched and you bit my ear" – this experience is a pleasurable one: "remember how I came in your hand then external/symbol made fetish". Perhaps with this placement Scott is showing how consensual intimacy and, yes, even violence can help one to overcome trauma.
One may expect the second section – "Verlaine in Soho" – to be more upbeat, as it merges Verlaine's style of love poetry with modern day references to "tinder" and "converse". What the poems prove, however, is that regardless of the time period, love can be as much a source of grief as one of joy: "being in love with you is fucking awful/cause one day you'll stop breathing". The third section, "Shame", returns to themes of abuse and of violent fetishes, as well as loneliness. The poem "[even if you fuck me all vanilla in]" sticks out, simultaneously lamenting the demonization of homosexual relationships, while also turning love into a form of protest: "we are still dangerous faggots".
Section four, "Soho", consists entirely of the epic poem "Oh My Soho!". As the persona embarks on an odyssey through the streets of Soho, he moves through both space and time, searching for spiritual ancestors, poets or otherwise, whose legacies were silenced by AIDS and bigotry. The gentrification of Soho matches his fears that the LGBT+ community has become complacent after achieving "All this almost progress".
In turns triumphant and troubled, Soho is a tour-de-force of emotion. It not only unapologetically exposes the reader to the sheer turbulence of Scott's queer experience, but successfully forces the reader to rethink past poetry in a queer context.