Don't Call Us Dead (SHORTLISTED FOR 2018 FORWARD PRIZES FOR POETRY, BEST COLLECTION)
Tweet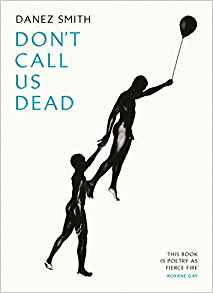 Two naked black men, one lifted up by a balloon, the other letting go of him. This stunning image on the front cover is intensified by a photograph of the poet on the back cover – Danez Smith, a black, gay, HIV-positive, queer slam poet from Minnesota. Don't Call Us Dead has been shortlisted for the National Book Award for Poetry in the US and for the Forward Prizes for Poetry in the UK.
The collection shouldn't be overlooked as just another politically charged book for it presents a level of poetic quality and consistency that transcends the espousing of political ideas. Almost every poem left me speechless on account of its punchline, or some beautiful and evocative line such as in "tonight, in Oakland":
[…] tonight, prisons turn to tulips
& prisoner means one who dances in a yellow field.
Throughout the collection, Smith does a wonderful job contrasting brutality, sadness and grief with hope, beauty and awe. Metaphors used fit well with the poems' mood and don't feel exaggerated, tastefully balancing the thin line between too much and not enough drama. Sometimes Smith bets the quality of the entire poem on one line. This shows when the work addresses prejudices, such as in "at the down-low house party" – 'faggot meaning i been waited ages to dance with yo ', or also when suggesting a simplicity in "summer, somewhere" – 'the fields of lavender – brothers / dancing between the storm'. Smith understands the risks of his work and is adept at providing astonishing poetry page after page.
"summer, somewhere" is also the book's opening poem and across twenty pages embodies Smith's skill and bravery. The poem is suffused with beauty, nostalgia, anxiety, injustice and hope. On each page there waits a gem, words that let the imagination and emotions fly together:
i can make any black boy a savior

make him a flock of ravens
his body burst into ebon seraphs.
Smith's poetry performs on the page is natural and alive. It shouldn't come as a surprise, given their success in slam poetry competitions. Nevertheless, these poems are not just transcripts of live performances but exist in two separate dimensions without losing on quality – a close intimacy with the reader and coming from Smith's mouth on stage.
However, to see Don't Call Us Dead only through the prism of beautiful lines and artistic craftsmanship wouldn't be fair. Smith talks passionately about issues close to his heart. The collection is dominated by poems about the suffering of the black people and about love. The latter might be thought lowly but are always alive and real, showing how, in "it began right here", the empty space left by a lover can be painfully filled with HIV:
i am a house swollen with the dead, but still a home.
the bed where it happened is where i sleep.
Poems are honestly brutal and deeply haunting. This holds true in particular for all the poems dealing with racism; Smith contrasts hopeless adults with hopeful children and merges both in imaginary spaces he creates for them, showing people on the verge of despair yet still appreciating the little things in life:
if snow fell, it'd fall black. please, don't call
us dead, call us alive someplace better.

we say our own names when we pray.
we go out for sweets & come back. ["summer, somewhere"]
Breath-taking, well-polished, Don't Call Us Dead takes the reader on a roller-coaster ride through despair, tears, loneliness but also collectivity, hope and honesty. Smith's poems will linger in my mind for a long time and I recommend that you let them into your reality too as they will take you someplace better.