Jinx (SHORTLISTED FOR 2018 FORWARD PRIZES FOR POETRY: THE FELIX DENNIS PRIZE FOR BEST FIRST COLLECTION)
Tweet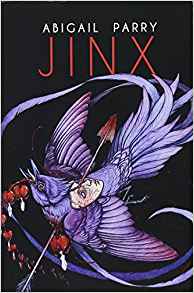 Abigail Parry's debut collection Jinx is an exercise in sleight of hand, it's a trick. Parry weaves the familiar elements of nursery rhymes and folktales with darker themes of sex, death and guilt into an uncomfortable combination that plays with readers' expectations. She borrows characters and stories from those sharp-edged fairy tales with undercurrents of seduction and danger as frames for exploring identity and relationships. As well as being deeply immersed in folklore and myth, games feature significantly throughout Jinx. Parry plays with symbols, figures, and concepts from children's games: games of power and games of the heart. Jinx is a tarot spread of characters hiding a dark twist beneath every flick, lift and slide.
In keeping with Jinx's folkloric influences, the poems in the collection are stylistically fable-like and character focussed but also shape changers. Male characters are often threatening for females, and regularly take the form of malevolent animal figures – the goat, the snake, the raven. Parry's women tend to be positioned as the narrator and are voices of experience delivering warnings – "take care who you dance with, when you dance." Trickster figures feature in one guise or another throughout the collection – the Spook, the Jack, and the Knave – representing curiosity , the lover or the rogue:
                It must be love.
                Well, that's that.
                Snapped taut like leather straps.
                She's banjaxed, hobbled, hamstrung,
                                on the rack for Mr Spook.
I love the musicality of this collection, it's definitely one that should be read aloud. Parry's use of repetition, internal rhyme and onomatopoeic words cleverly shape poems that are tinkling, jingling fairy music with all the bustle and clamour of a jazz funeral. And all the traditional lurking danger of both –
Here he comes, love this guy, chack-chacking
like a cue-ball off the break. It's the smart snickersnack
of Scissorman, or a rattling stack of easy chips,
all bets, roulette, oh yes. Spick-and-span, pin-prick neat
with livery fit for a thief.
Jinx has an impressively complex lexicon and Parry wields it with fearless confidence. Her nonchalant use of words like tabernacle, curlicues, phosphorene, obelus, bifurcate, palanquin, spirochetes, troika, zoetrope, aesthetician, leitmotif, villiform, convolvular, and syzygy, to name but a few, demonstrates an impressive skill with metre and rhyme; it also places significant trust in the reader. Parry is clearly in love with words; the way they sound, the way they tease and challenge. Her poems are serpentine and seductive –
We're not supposed to parley, Ropey Joe.
I'm meant to close my eyes and shut the door.
But you're a slender fellow, Ropey Joe,
                                                  thin enough
to slip beneath the door and spill your wicked do-si-do
in curlicues and hoops across the floor.
At times, Parry's unflinching confidence make Jinx seem like a game she is playing with herself. A riddle she is weaving and solving at the same time – "A riddle is a tricksy thing – / and all are true before you speak / (true and not true says the snake)." Parry's confidence might be obvious, but beneath the veiled words of every riddle is a question. Parry's questions revolve around influence; the influence of men on women, the influence of expectation, and particularly in the film focussed poems, the influence of masks and roles. Jinx includes several poems featuring celebrities, particularly silver screen era actors and characters. These poems are interested in the people behind the masks and how much of their performances bleed into their lives – "All along, the ivy" uses quotes from Bette Davis interviews to work through her diva reputation, and "The Man Who" takes lines from David Bowie films to explore his myriad personas. Throughout the collection, Parry asks what and who are you – "But kid, / what happens when the mask sticks? / What happens when the ice stays stuck?"