In Conversation with Fiona Kidman
Tweet
"You're spot on time. Isn't that good?" Fiona Kidman is warm and merry, bright as a button. She takes me through her kitchen and into the dining room, stopping to point out the view from her window. "Can you see the lights? That's the airport above the sea, Wellington." In Wellington, New Zealand, it's 9.00 pm and I can see the distant lights twinkling through Kidman's window. It's a slightly wobbly view because she's talking to me on Skype, holding up her tablet for me to see. She swings round, sits down and props the tablet in front of her face. "We'll settle down now. All right let's go!"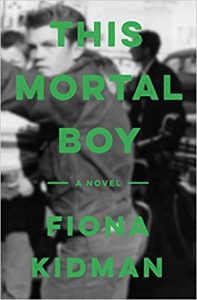 On the 2nd July this year, Fiona Kidman's eleventh novel, This Mortal Boy, was published in New Zealand. She has been writing since her early twenties and has published more than thirty books – novels, short stories and poetry as well as non-fiction. In 1988 she was awarded an OBE and in 1998 she earned a DNZM for her contribution to literature. In 2009 she received two honours from the French government, the Chevalier de l'Ordre des Artes et des Lettres (Knight of the Order of Arts and Letters) and the Légion d'Honneur (French Legion of Honour). Not bad for an author who describes herself as "just a small cog in the wheel".
Born in Hawera, New Zealand on 26th March 1940, Kidman grew up in Northland and began a library career in Rotorua after she left school. The head librarian, Kit Wright, was a great influence on the young Kidman. Kidman describes her as a woman of vision, very beautiful, and a feminist before her time. "She saw something in me, introduced me to a wide range of literature. My life opened up from there on."
Kidman went on to work in the media as a journalist, radio producer and as a radio, film and television scriptwriter. For some time, she was the only female screen writer in the country but confesses that she didn't always like working in that industry. "I'm just not a great team player, preferring to work on my own […] but the positive thing I took away was the ability to look at things through the eye of the camera – to describe what the cameraperson was supposed to be looking at."
It's a long and illustrious career so I ask her what drew her to writing? She chuckles: "Money!" She goes on:
I married when I was twenty, had my first child when I was twenty-two, and we were poor. I had stopped work when my daughter was born, because that was the expectation in the 1960s. I offered myself to the local paper as a book reviewer and they took me up on it. I wrote scores, maybe hundreds of reviews. I was offered more work and it just grew from there.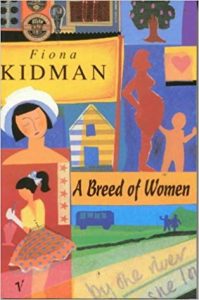 Money might have been the practical motivation, but Kidman had always dreamed of being a novelist. Her first novel was turned down, but she used parts of it in what would become her first published novel, A Breed of Women, in 1979. She tells the story of how non-committal her agent was when she first gave him the manuscript but then, "I got a call from him at 6 o'clock the next morning and he said 'I haven't been to bed. I've been reading this all night' — which was lovely. I was published in Australia with that book!"
After moving to Wellington, where she still lives, Kidman's writing career spun out in new directions. She quickly "fell in" with a group of writers, mainly poets, and she started to write poetry. "I thought, well, you know everybody's writing poetry and I'm sure I can too, but I was very undisciplined, and I didn't have much craft which I realised later." Whether she had craft or not, Kidman had two collections of poetry published in the seventies, Honey & Bitters (1975) and On the Tightrope (1978). In 2006 she was granted the Katherine Mansfield Fellowship and spent six months in the South of France, where fellow New Zealander Katherine Mansfield once lived. Kidman describes it as "an absolutely blissful experience" and, after a seventeen-year gap, "I just suddenly started to write poetry again." She tells me: "I'm very disciplined when I write fiction – I have a strict programme for writing, but I tend to write poems when I'm happy." If happiness inspires her to write poetry, is she able to tell me what drives her creative impulse in a general sense? She hesitates,
It's sort of like an addiction really. It's a drug – you start to get near the end of something and you think, "thank God that's off my plate" and then you realise you're actually onto the next thing and there's nothing else one can do except do it. I suppose I've been a driven person.
So typically, how does she begin a new project? She tells me that she's particularly attracted to character. "I suppose that is why I have written a number of novels that have taken real lives as their framework, for example, The Infinite Air based on the story of a New Zealand aviator of the 1930s called Jean Batten."
Her most recent novel, This Mortal Boy, is woven around the true story of Albert Black, the second to last person to be hanged in New Zealand in 1955. It's a very political novel. "I'm quite a political person as you've probably gathered." Kidman continues, "I set out to write a novel about the fragility of youth and the way young men's lives can suddenly splinter apart." I get a strong feeling that Kidman's exploration of Black's story is linked in some way to the love she feels for her own family. She says:
I have a lot of male descendants and I've watched them with great love and great anxiety unless they should make some mistake… now I mean all young people make mistakes but as it happens so far, my family is great! They've survived. It's so easy to make a mistake that can ruin their lives and then ruin the family's lives and run through generations. I was thinking about that as a theme and I came across an article about this young man that took me back to that time. I was a teenager in the same era, very much a rock and roll era… and it was a killing that happened in a café in Auckland, our biggest city.
Kidman thought it would be interesting to see how the events had affected Black's family. She examined the transcripts of the trial and found herself getting caught up in the case, examining what really happened.  "I think there was a very strong case for manslaughter, not murder." She went to Belfast but couldn't find any of Black's surviving family members, but she did find out a lot about his family, information that she was able to take back to his descendants in New Zealand. She explains:
This twenty-year-old boy had a daughter born to him three months after he died, and she is now a grandmother, so this whole thing about generations started to evolve in my hands. This story went out in all directions and it also became very political… there was a very graphic eye-witness account of his death, published in one of the popular papers at the time, and that led to the tide of popular opinion turning against the death penalty in New Zealand.
If This Mortal Boy turned into a more overtly political novel than Kidman had originally envisaged, then it surely complements her existing bibliography. Having dipped into just two of her novels and several of her short stories, I can attest to the political undercurrent running through Kidman's work. She's a versatile writer and a great storyteller, a feminist, a champion of the outsider and a keen observer of the complex dynamics of family relationships. But her writing is never sentimental. There's a hard edge running through her work, an "otherness" to the writing which feels fresh and unique. Perhaps it's simply that she has focused on writing about her native New Zealand and that what I'm picking up is the unfamiliar flavour of that country. She thinks I could be right. She says,
Because [New Zealand writers] are so far away and outside mainstream literature a lot of people try to write about other places, internationally as it were, and I decided a long time ago that I wasn't going to do that. I thought that really what I want to know about and what interests me is New Zealand… [so] I thought "no", I'll stick with New Zealand and hoped that […] perhaps the world will find New Zealand eventually. In a way, it's starting to work for me. I've been writing since I was twenty-two, going along this pathway and I have thought sometimes: "Am I mad? Should I be writing something set in Spain or Italy or something" but it never works for me. Now my work's being discovered, particularly in France – I've got a really big readership in France, and reasonably so in Germany and one or two other European countries and now, very belatedly, the UK, so that "otherness" you mention – I think it's just taken people all this while to find New Zealand as a place that might be of interest.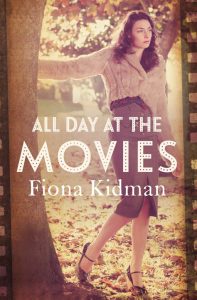 Kidman's award-winning 2016 novel, All Day at the Movies was published in the UK earlier this year. An episodic, multi-generational story of family entanglements, the novel draws on Kidman's "eye of the camera" and uses the language and metaphors of the silver screen. All Day at the Movies is the third book of Kidman's to be published in the UK within quite a short space of time, and I sense her pleasure when she chuckles: "Presumably they're doing quite well!"
Among the writers who have influenced her, Kidman includes Marguerite Duras, Anton Chekhov and Alice Munro. For Kidman, Munro is "the consummate storyteller and reader of the human heart." When I turn the conversation to Kidman's first-person short story, "Silvertongued", (interesting to me because it's about a writer on a promotional book tour and is "absolutely autobiographical"), Munro's name pops up again. I cite a device Kidman uses in her story that I had particularly liked, a little disruption to the timeline:
I sat in the Sylvia Hotel, and watched the sea. Some of this story hadn't happened then but in a few days it would. The young man I would meet in Banff, he was as dangerous as an elk. He was going to meet up with his wife later in the tour.
"I really like that you got that!" Kidman laughs. "Some critics find it discombobulating – some critics don't like it at all but it's what I do, so that's that." She elaborates:
The thing I was trying to do when I wrote that was something that I've been trying to do in my stories… to play with time quite a bit. This is something that Alice Munro does and that's really interested me, the way she manipulates time. You asked me who influenced me, and she has certainly influenced me in the way she slip-slides through time and moves backwards and forwards and although it [Silvertongued] was a highly personal story, I was trying to do something with it in a literary sense too.
Kidman is particularly proud of her successful short story collection, The Trouble with Fire, because of the way she moves time around in the stories. "There are three linking stories that form the heart, the focal point of that collection and I think they work well." The book was shortlisted for the New Zealand Book awards and also the Frank O'Connor International Short Story Prize. She laments the general lack of enthusiasm publishers have for short stories and recognises that her publisher is favouring her to some extent by publishing an occasional collection of her short stories. She says they are always more interested in her novels. "So, I don't indulge myself in the form as much as I would like to… perhaps that's the next thing I'll do. I don't know."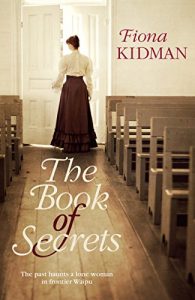 Through reading a selection of Kidman's short stories I gain an insight into the themes that interest her: social differences, narrow and widening attitudes to women's role in society, racism, transgression and economics. Her work is richly textured and meticulously layered to show changes through time. Her families are messy, mixed-race families, mothers with children from different fathers. Kidman's characters are not always likeable, but they are interesting. They have baggage. Kidman doesn't like to be pigeonholed but admits that she's always been interested in outsiders, people who, for whatever reason, don't quite fit the mould. The central character in her novel, The Book of Secrets, was based on a woman who lived on the boundaries of the little country town where Kidman lived.
People called her "the witch", but what was she really like and why was she living in isolation? Perhaps I have been preoccupied, without always knowing it, with my own childhood perspective – the only child living in the country, seeing the world in a slightly skewed way.
Kidman herself married outside the conventions of her family expectations. Her late husband, Ian was of Maori descent. "At the time mixed-race marriage was frowned upon. In the suburb where we lived, that placed me on the outside again." Kidman's short story, Needle in the Heart, delves into the territory of teenage pregnancy, illegitimacy and mixed-race families. When I ask what attracts her to this kind of domestic situation she's candid:
A Needle in the Heart is based on my mother-in-law's story. The fallout followed Ian for most of his life. The stigma of illegitimacy was very strong in this country and there are many heart-rending stories of separation and loss. Because I was very close to one of these stories I tended to absorb it and many more.
Kidman's sympathy with the illegitimate children in her stories is tangible. She has an adopted son and has reflected deeply on the social circumstances surrounding adoption in New Zealand. "It was the thing in the sixties… taking some poor child, a homeless child. What we should really have been doing was supporting the mother who was having the child." She takes obvious delight in the fact that the unmarried Prime Minister of New Zealand has given birth to a daughter this year. "We're all going 'isn't it wonderful' but it's that whole change of attitude over fifty years, that painful separation of mother and child, that has really interested me, and I suppose if you look at a number of my books thematically, there are a lot of lost children."
Given her marriage and long association with Maori communities, I ask Kidman about the current political hot potato of "cultural appropriation". Not surprisingly she tells me that there is tension in New Zealand, debate around the issue of who can tell what stories.
My view has been that you can't have a landscape in which you pretend one part of society doesn't exist because we are a society. Everybody goes to school together and there's a lot of interracial marriage and so forth, so I don't write as a Maori, but I don't write a landscape that doesn't have Maori in it.
Moving away from the political, I ask Kidman if she has a favourite opening line from a novel and get a little more than I had expected. It becomes evident that Kidman has been a teacher of creative writing: "Here is one I like, by the late Alistair MacLeod, at the beginning of his powerful novel, No Great Mischief: 'As I begin to tell this, it is the golden month of September in southwestern Ontario. In the splendid autumn sunshine, the bounty of the land is almost overwhelming, as if it is the manifestation of a poem by Keats.'"
Straight away we know exactly where we are, the time of the year, the way the light shines. And if you lie that against the title, we can pretty well guess that this scene is going to be ruptured by some force that seizes control of the situation. We wouldn't be mistaken. The phrase 'almost overwhelming' is a potent clue as well.
I can't help but wonder if Kidman has been influenced by this grandiose opening, for I see parallels with the opening of All Day at the Movies, when Kidman's character Irene Sandle disembarks from the bus and feels that "everything about Motueka was awash with glowing light." With such a cinematic image, the reader knows immediately that the "glowing light" is going to fade.
With her teacher's hat on, I ask Kidman what advice she would give to aspiring writers. I'm not sure what I was expecting, but it certainly wasn't this: "Learn to enjoy your own company. You will spend a lot of time alone in it."