The Passions of Bute Noir
Tweet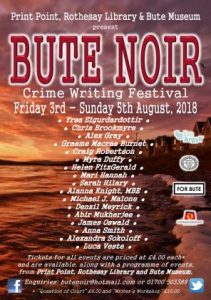 Bute Noir is a three-day crime writing festival held in the town of Rothesay on the Isle of Bute, a short ferry from Glasgow.  Despite being one of the smaller venues for such a festival, the island can hold its own in the field, with some of the most respected authors of this genre attending the festival since it began in 2016. Craig Robertson has been involved ever since and is now Programme Director, running the event alongside a committee of three book-loving locals; Karen Latto who owns the island's bookstore, PrintPoint, and colleagues Patricia McArthur and Anne Spiers from Rothesay Library and Bute Museum respectively.
Authors such as Chris Brookmyre, Alex Gray and Craig's partner, Alexandra Sokoloff have been involved since the start and the reputation of Bute Noir continues to grow, as more and more well-known crime writers become involved.  Possibly what also makes the festival so successful is the intimacy of it, with the majority of the audience attending coming from the island itself. I attended a selection of events and, as an aspiring writer, learned so much from each one.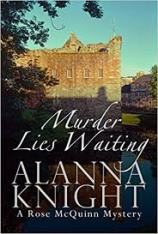 A pop-up pre-festival event, An Evening with Alanna Knight, was a delightful taste of things to come, with Myra Duffy interviewing the 95-year-old author, who is still producing her murder mysteries in mid-twentieth century style, drip-feeding clues to the reader, until the puzzles are solved.  This event was held at the Bute Museum, a building purpose-built to tell the story of the island's past, and the venue itself was hugely inspirational to Ms Knight, when she visited the island for the first Bute Noir festival.  She was so taken by the building and the island that she vowed she would set her next novel there; her latest novel, Murder Lies Waiting, published this year, is the result.
Time and place settings are a key factor in Alanna Knight's novels, where she portrays the 19th and early 20th centuries with sensitivity, as was demonstrated when a member of the audience talked about how well Ms Knight described the sheer wonder that Meg felt (Detective Jack Faro's daughter) when she was able to talk to her father over the telephone!  Such attention to detail is important in her work, explained Ms Knight, just as the need to solve the puzzle is an integral part of her style; she explained that she did not feel comfortable solving mysteries with the computer and DNA testing, but by a series of clues in time-honoured fashion, paying homage to Christie and her ilk.  Ms Knight also demonstrated a passion for portraying changing times for women.  Rose McQuinn, Ms Knight's 'lady detective' characterizes  changes to women's social status through her profession and her political ambitions, for example, in supporting the Suffragettes.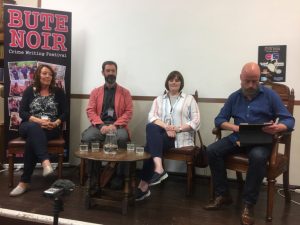 Craig Robertson opened the festival officially with A Starter for Tension, interviewing James Oswald, Sarah Hilary and Mari Hannah to find out how they began to write in this genre.  James came to crime writing after beginning his career in other genres, but his friend Stuart MacBride advised him to change his focus.  He took a police character, Tony McLean, from his comic writing, set him in Edinburgh, with an unsolved crime from the past and a series of grizzly murders, and began his career in crime writing.  Unlike his contemporaries, all James's novels contain supernatural themes, borrowing much from his own background in comic and fantasy fiction.  His work intrigues me, as he described two of his detectives, one his established protagonist Tony McLean, and the other his new creation, Constance Fairchild, who he ventured, may at some point meet up as they "live in the same universe." Sarah and Mari began their writing influenced by their careers in London (Royal Navy Magazine) and the Probation Service (Northumberland) respectively.  As is often the case, personal circumstances drove Mari into writing after she had left the Probation Service early, but her career took off when she won a place with the BBC Drama Development programme, where she developed "Murder Wall" as a script, which later became a novel and sparked the series with DCI Kate Daniels.  Sarah admitted to always wanting to write about spies but her career in London took over; her experiences there gave her much of her background material for her writing and her series with protagonist DI Marnie Rome. Each author discussed the importance of police procedural writing in their work, with James thinking more about characters and their motivation than plot, Sarah saying that publishers no longer want the psychological thriller and Mari reflecting that though starting off with police procedure as background, this becomes less important in her latest novel.
Far Horizons, with Graeme McRae Burnett and Abir Mukerjee,,chaired by Michael J Malone, was a joy. These two contemporaries, were having a ball at meeting up again after their previous meeting at the Kolkata Book Festival, which left a deep impression on both writers, each of whom talked about being humbled by the reverence with which books and reading were held in this massively overcrowded city and land.  Informative and thought-provoking, this was the interview that started me thinking of the link between social justice, isolation and a passion for crime writing.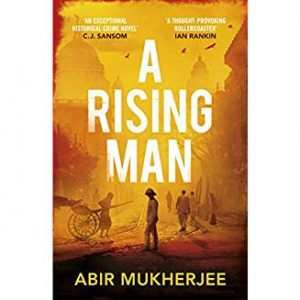 Abir, in talking about his novel, A Rising Man, was passionate about his portrayal of early 20th Century India and the cultural challenges for both India and Britain when Europe and the Empire faced the aftermath of World War 1.  He also demonstrated a real passion for social justice and a desire to show the conflicting views of the effects of colonialism – the "needlessness" of the Great War and the contrast with Gandhi's non-violence movement as it emerged during this period.  His protagonist, disillusioned ex-soldier-cum- detective, Captain Sam Wyndham, continues working at his day job as an accountant in his new book, Smoke in Ashes, but then begins to investigate a series of unusual murders.  The time setting is pivotal in this novel and Abir spoke passionately of how the British and Indians rode out the 'freedom movement' in a way that only these two nations could.  He later went on to link this to the effects of class on emigration, growing up in Thatcher's Scotland, and the anger, injustices and sense of 'being an outsider' that he felt.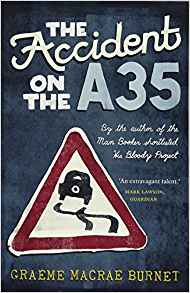 Graeme agreed with this, linking his own sense of 'being an outsider' in Thatcher's Scotland growing up in a middle-class household in Kilmarnock as industries were dying and unemployment rose.  Both authors reflected on how this impacted on their protagonists being outsiders.  Graeme linked the Sam Wyndham character (who becomes an opium addict) to his own disillusioned near alcoholic protagonist, Georges Gorski, whose story in Accident on the A35 builds on his debut novel, The Disppearance of Adele Beadeau.  He connected feelings of alienation in his home town, to the novel's setting in the small French town in the Swiss border, where the routine of life becomes unbearable for some and where his protagonist feels like an outsider struggling with the banal routines of life and the petty resentments which build up within the town and the café culture.
The importance of time and place, and of social injustice was further demonstrated in the next discussion in the library, with Chris Brookmyre and his wife, consultant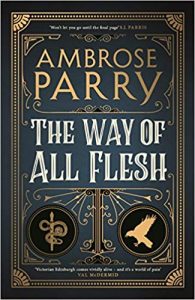 anaesthetist, Marisa Haetzman, who have co-written a new piece of work.  This novel, The Way of All Flesh is written under the nom de plume of Ambrose Parry.  It looks at the injustices of life in Edinburgh in the early 19th Century, and for young women in particular, linking life, scientific experiments and murder in a new dark tale. Luca Veste chaired the panel and drew interesting background material from Marisa, who explained the importance of real-life 19th century surgeon, Dr Simpson.  Much of the novel is based on his records. He was a surgeon who tried to give fair and just treatment to all who needed it in Edinburgh.  His work is little known, and as Marisa and Chris talked about her research discoveries, an idea was born:  to set Chris's latest murder novel in this time and place.  Chris read an extract from the novel at the authors' gathering at the Black Bull Pub afterwards, which left listeners with an urge to hear more.
The last event I attended was Watching the Detectives with James Oswald, Alex Gray and Denzil Meyrick, chaired by Doug Johnstone.  Here, the authors discussed the importance of procedural writing and the importance of naming the detectives, making the police visible and hooking the reader in through a kind of familiarity, as though police procedural work is 'part and parcel of everyday life,' (Alex). At this point, the importance of structure was discussed; date, time and settings are given so that the puzzle begins to take shape, and the reader can become fully immersed and involved. James, however, admitted that he did little procedural work or research, and if part of his story required it, he just omitted that part!  Passion for place was again demonstrated in this session, as Alex explained that she was determined to showcase different images of Glasgow and to challenge the 'mean city' portrayal, through setting her novels in various cultural circles of the city.  Denzil admitted that he was determined to put Campbeltown on the map through the close-knit community of the fictitious Kinloch.
There was such a variety of authors and styles that at first glance it seemed difficult to look at common threads running through the festival.  However, the more authors I listened to and readings I heard, the more I realized that, like all authors, passion was a key theme for these writers.  This was demonstrated through their passion about settings – both time and place, and for their characters, who live with them throughout the telling of their stories and dramas.  Alanna Knight described this earlier as … '(them) standing behind you at the kitchen sink', and talked about how much her characters live with her, becoming part of the family as she writes their stories.  Anti-heroes are often portrayed as worn-out detectives in this genre, but there are twists to these stereotypes in our protagonists, as described by Abir and Graeme, and by Denzil, when he talked about his whisky drinking detective, DCI Daley.
Bute Noir highlighted what all avid crime readers know – Scotland is a rich setting for crime novels.  Glasgow with its harsh, industrial background can make the perfect location, yet Gray sets her crimes amongst Glasgow's middle classes – through the worlds of classical music, art and professional football, demonstrating that murder can lurk in all quarters! Edinburgh's notorious 'double life', made internationally popular by Ian Rankin (referred to throughout the festival as 'the plumber', thanks to local businessman and sponsor with the same name), is once again represented, albeit in different time settings, by Parry and Alanna Knight, though in her latest novel she also demonstrates the power of island life and splendid Victorian villas, as perfect settings for less than perfect murders. Alienation and feelings of being an outsider seem to be recurring themes of crime writers in Scotland and other parts of the UK, or even further afield as in Abir Mukerjee's Indian novels, but even there, strong historical links between India and Scotland are an essential part of the setting and characters.  Abir amused the audience with his anecdote about his Bengali father thinking Burns stole 'Auld Lang Syne' from Bengal!
What connects all these authors and their work is their absolute belief in their characters and how they live with them, day in, day out.  Few said they set out with a plot and mapped out their storylines right from the beginning.  'When I finish one book, I think, right, that's it.  I'm never writing another book,' said Alanna Knight, 'then an idea about a character pops into my head, and I'm off again!'  Her words seemed to echo the thought of the many authors I had the privilege to listen to, over a – dare I say it – thrilling weekend, learning about what motivates and drives these highly engaging and successful authors to delve into the dark world of murder, intrigue and death.  I'll be back!