Tweet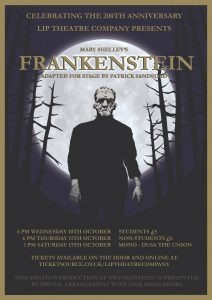 In this the second centenary year of the publication of Mary Shelley's Frankenstein, Patrick Sandford's stage adaptation of Shelley's novel must have appeared as an ideal tribute. Perhaps that was why Lip Theatre Company, Dundee University's own student-run drama society, chose it as their first production for the new academic year.  In truth, however, director Charlotte Doig and the actors must be praised for bringing life to Sandford's adaptation  ̶  this despite an awkward venue, the occasional technical difficulty, and a script which perhaps tries to truncate a bit too much of a rather dense story.
In Shelley's original, storytelling is a major theme: the narrative framework is built around characters telling stories within stories. It also features epistolary elements such as letters and journal entries. Sandford's adaptation maintains this structure, with the play bookended by scenes of Frankenstein telling his story to Captain Walton and his crew. Doig's choice to have the actors deliver many of their lines directly to the audience, reminding them that they are witnessing a story being told, including Frankenstein's telling of the events of the plot rather than the events themselves, is therefore fitting. Certain elements of the play feel confusing and jarring, including sudden temporal jumps and moments that blend reality and the imagination, for example, when Frankenstein's family and friends appear in his laboratory to recite their letters to him as if they were having a real conversation. Perhaps these confusing moments are actually supposed to reflect the fact that the audience is witnessing the story from Frankenstein's perspective, in which case they become narratively appropriate, demonstrating Frankenstein's distracted mind.
For an audience member not already familiar with the plot of Shelley's novel, the play may be difficult to follow. Shelley's novel is dense, and Sandford's adaptation rushes through certain important plot points. The Creature's story of his desire to belong to a loving family fallen on hard times, and his murderous rage when they reject him, a tale of pathos given time and attention in the novel, stands out in particular as a casualty to the play's pacing. Although the original is present, it is abridged to the point that the scene loses most of its emotional weight. Unfortunately, voice projection also varied between cast members and from scene to scene on the night of my visit, and some lines were lost which could have helped clarify what was happening onstage. The venue's poor acoustics and the air condition's constant whirring didn't help matters.
Despite that, the acting is strong. Special mention goes to Taskeen Bailwal as a headstrong Elizabeth, Josh Heron as an increasingly unhinged Frankenstein and Matthew Ogden as the Creature; the latter's performance is the perfect blend of the threatening and the tragic.
As an amateur company with a relatively small budget, Lip has the uneasy task of generating a lot from a little, in a story which includes scenes set in laboratories and onboard a ship. The set is minimalist, given Mono's limited backstage space; Doig also told me that she wanted to keep scenes uncluttered to allow the actors and Shelley's words thus speak for themselves. Although the stage feels a touch sparse at times, at others this minimal setting works perfectly to the play's advantage, with the coolly lit, empty stage capturing both Frankenstein and the Creature's feelings of isolation. The occasional presence of a chorus also keeps some scenes from feeling too empty. A ship's wheel and fireplace stand out as two impressive homemade set pieces. Clever variations in performance space adds an extra dimension to the play; the Creature's sudden appearance amongst the audience in the pit accentuates his eeriness and his alienation from society, especially when he gazes up at the bright home life on stage.
In the end, despite a less than ideal venue and a script that feels rushed, Lip should still be proud of this chilling production, which shows off the company's acting prowess and their resourcefulness when working around budget and space restrictions, just in time for Halloween too.