Tweet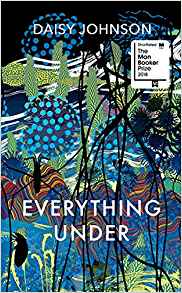 'I think often of all the dead who live in the water.'
Everything Under is a disturbing examination of the way our fears and secrets haunt us.  Gretel Whiting recalls her search for her flighty mother, Sarah, and the shadows it unearths. She remembers her childhood on the canals with the woman who abandoned her and asks, with an air of philosophical mysticism, if we really have free will. As the story twists and turns, the debate surrounding determinism and free will is played out.
Gretel calls back images of the barge where she grew up, almost alone, with Sarah, and contemplates the role their secret language played in moulding her identity. Working as a lexicographer she ponders the possibility of speaking a thought or materialising feeling into being. Could it produce a physical being like the shade that haunts her through canals of her past and present?
Gretel remembers a month on the barge when a boy, Marcus, wandered aboard from the wild. He stayed a while and without warning he was gone. Gretel wonders if Marcus might lead her to her missing mother. She goes out to track him, hunting, just as her mother hunted the thing they call the Bonak: 'You were up to your arms in Bonak. I watched you and – for a moment – it seemed as if you were turning into it. As if you had been it all along.'
Johnson's style is crisp and uncluttered, making Everything Under an easy if uncomfortable read. The narrative flits between past and present, painting vivid images as it builds suspense. The reader is ferried towards a series of grim revelations that leave no character unbroken, and no shunned cleft undelved into.
A triple thread structure provides Gretel's past and present, and also an outsider's perspective on these.  There are moments where the narrative becomes confusing, but these are clarified as the scene changes, and snippets of story appear like fragments of river debris. Two thirds of the book comprise Gretel's monologue directed at her mother, while the final third is told from a third character's perspective, revealing detritus from Gretel's childhood that would otherwise be missing. The reader views Gretel from the outside and the inside, privy to her actions as well as her thoughts, which gives the feeling of a deepening relationship.
The plot produces a torrent of mixed emotions.  Uncertainty forces us to ask ourselves Gretel's questions regarding determinism and free will. Gender and reality appear to be mutable in a way reminiscent of Virginia Woolf's Orlando and Shakespeare's Twelfth Night. Johnson grapples with the concept of identity and produces a subversive and engaging nightmare like Wole Soyinka's The Bacchae of Euripides: A Communion Rite. It is difficult to build a reliable picture of any of the characters because their perspectives fluctuate, just as the river shrinks and swells.  Reality and personality shift. The river drives the narrative, and is so present that it becomes a character.
This novel fails to shock in the way one might expect from the subject matter. At times Gretel's narrative seems deeply detached. Johnson makes us care more about her characters and the river than about the victims of their choices or fate. What is clear by the end of the novel is that it is foolish to ask questions about freedom and fate while shrugging off responsibility.