Tweet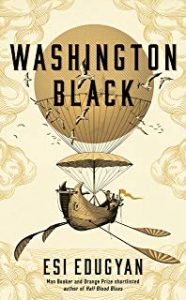 The story of George Washington Black is told in the first person by Esi Edugyan's protagonist of the same name in her Man Booker shortlisted novel. Starting as an eleven-year-old field slave in Faith Plantation in Barbados in 1830,  the conditions of his slave life in the harsh setting of the sugar plantation  is  perhaps now familiar in novels and films, and  Edugyan's descriptions and characters are reminiscent of such classics as Jean Rhys' Wild Sargasso Sea and, more recently, Soloman Northup's Twelve Years a Slave. But this is only the beginning of Washington's life and adventures in Edugyan's novel.
Washington Black illustrates how easily a slave's life could change and how little control Washington has over his own destiny in the early 19th century colonial culture.  A change in ownership is the catalyst for Washington's changes of fortune, bringing to the fore not only African beliefs and culture of the time, but also the hopelessness of life under slavery, which resulted in slave suicides.  In the novel, the horror of the decapitation of a slave child's body is used to instill fear, control and discipline. Washington sees a change in Big Kit, the woman who protected and nurtured him for as long as he can remember, and who has given him his first notions of what it might mean to be free and that it is to 'go wherever it is you wanting.'
Two brothers inherit the plantation; the master, Erasmus Wilde, has everything running to order, in typical dictatorial style, but his brother Christopher, referred to as Titch, is a different character altogether, interested in science, invention and nature, and a supporter of the abolition movement. Washington is at first suspicious of Titch but as the former learns of the latter's plans to build the 'Cloud catcher', and becomes his technical assistant, a respect and dependency grows within the slave for his master's brother.  Through Titch, Washington (or Wash as Titch calls him) discovers his own fine talent for observational drawing and, eventually, the peace and sense of purpose that such activities can bring to him.
However, as a boy born into slavery, Wash cannot conceive of himself as a free person; given the choice, Wash explains to Titch, he would wish him to be his master.  The former cannot see himself as an equal of the latter.  The arrival of a cousin from England brings news and circumstances which change Titch's life and leave Washington scarred, leading to Titch's attempts to escape the plantation and take Wash with him.  So begins a journey and Washington's life as a hunted person.
The strength of this novel lies in the narration and the conflicting emotions so eloquently portrayed within: Washington's confusion and growing understanding of life, his position within it, the trust he places in others, and the difficulties faced by freedom and displacement: 'And so I awoke to myself, my boyhood long behind me.  I had become a stranger in my own skin.  How was it I had let all wonder, all curiosity seep from me?' Relationships are not easy for Washington in a journey which takes him from Barbados to Virginia, from the Arctic to Nova Scotia and from London and Amsterdam to Morocco.  Washington feels continuously conflicted, caught between liking others and yet not trusting them.
Edugyan's powerful, descriptive language and sensual imagery, seen in her earlier novels, Half Blood Blues, and The Second Life of Samuel Tyne, are used vividly to bring the reader into the complicated world of early 19th century America, depicting not only an age of slavery and abolition but also invention and exploration, wealth and destitution, cruelty and violence, nature and beauty. At Washington Black's core is a quest for survival and recognition.  But Edugyan also gives us a magical adventure which brings hope.