Tweet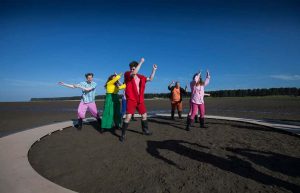 To say that Dundee has had a lot going on of late would be a gross understatement. There have been Penguin Parades, new festivals springing up, an influx of performances from the country's top musical acts and yes, that iconic building by the waterfront. But lodged into the spaces in-between these significant events is 'The Year of Young People', a programme of activities which aim to give a voice to the youth of the city, to make sure they are recognised and represented. While RADIAL is a perfect example of Dundee providing a platform for young people to express themselves, it is also 'part of a radical new festival of performing arts' called 'Futureproof', which itself is premiering in the new Festival of the Future. There's a lot to take in.
I went into this particular event relatively 'blind', not knowing what to expect. Having said that, as the night unfolded, I'd admit to being pleasantly surprised. At the entrance, visitors were literally given the red-carpet treatment complete with a paparazzi. Audience members were invited to stand in front of a RADIAL backdrop and have their picture taken. It provided an entertaining way of entering a performance space that few of us ever get to experience. What followed was a mixture of events which further celebrated youth in the work created in collaboration with National Theatre Scotland and Back To Back Theatre. A short, enjoyable dance number brought young artists together from various points of the room to the central breakout space.
The main piece of the night was a seven-minute film which played like an extended music video; it didn't showcase the postcard image of Dundee as we might expect, but instead dwelt on some of  the city's open and more isolated spaces. In these spaces was a ring in which the artists performed their dances and movements while the camera panned around them. As a piece of visual art, the film stood out in its editing, aesthetic and choreography. The film contained little dialogue but woven into the film in subtle ways were some of the issues that face youth today: feelings of frustration, alienation and isolation, all of which the performers overcame by expressing themselves through movement. Movement and fluidity were enhanced by the music. Singing was one of the film's highlights; the song captured a sense of unity between performers,  a sense of family. After the screening, a Q&A session with the creative team gave a little insight into the project and their journey in making the film. Another viewing and a live performance of the same song took place soon after. The song, while moving in the film itself, was even more so live. To wrap up the formal event, a vote of thanks was given and an invitation to join in a party, which this reviewer couldn't stay for.
While the event and film as  creative  work was inspiring to this reviewer and fellow young person, I couldn't help feeling that there was a fundamental problem with the ideas behind this endeavour. A description of RADIAL on the Festival of the Future online programme claims it to be 'exploring diversity and opportunity'. But  it must be said that RADIAL fell short of representing the diverse cultural make up of the city. The claim to diversity might have done better to include artists of more varying backgrounds, ethnicities, stories and experiences.
Despite my feeling that some of RADIAL's core themes were not realised fully, the work done by the artists and the two collaborating theatre companies produced an engaging and passionate film which was enjoyable as an artistic endeavour.